Medite Smartply, Clonmel, Ireland was the site of the first installation of the new Valmet EvoThrottle blow valve. That took place in mid-December 2015. After one year of operation the results are in.
The blow valve is located after the Defibrator and is used for adjusting the fiber and steam flow out from the grinding zone. Sand and other impurities in the raw material that enter the blow valve subject it to a lot of wear and tear, resulting in frequent renovations. In Medite's case the blow valve in the Defibrator system previous to the installation of EvoThrottle was renovated every second month. The costs of replacement parts and downtime were considerable.

After a year in operation the EvoThrottle was checked for wear and none was found. Needless to say, Medite is very satisfied with the performance of the new valve as well as with the fact that it is saving a lot of money. Early on staff at the mill recognized the many advantages of EvoThrottle. Therefore, they decided to purchase an additional valve to install on a second line during June, 2016.
Other benefits
The design of the EvoThrottle makes controlling the process much easier. Its valve opening is totally proportionate to the flow through the valve, which means a more stable and uniform process. Indications also show that reduced energy consumption per ton produced (SEC) on the Defibrator is another positive feature of the valve.
New standard
EvoThrottle is now standard in new plants, but is also available as a stand-alone unit on existing fiber systems regardless of manufacturer. Some 20 installations will be in operation worldwide during this year.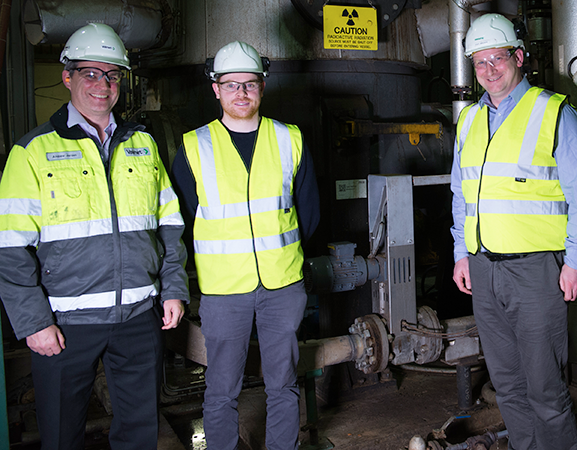 From left to right are Andrew Jordan, Product Sales Manager from Valmet and James Ryan, Maintenance supervisor and Pat Breen Engineering Manager from Medite.