Accumulation of high-quality data will be a key source of future business value. While machines and equipment are one part of a wider production system that creates value, software will play an increasing role in transforming data into digital services and solutions.
Analytics-based application development is bringing a new dimension to product development. It allows a holistic approach in optimizing production with advanced analytics tools. The key idea in this approach is to launch the first version quickly and then continue the development in constant cooperation with customers, which at the same time makes development work very agile.
"The Minimum Viable Product (MVP) approach offers customers a first-version solution incorporating only the required features. However, it's already a functional application that can be used in production. Only some features are manual or simulated," explains Valmet's Arttu-Matti Matinlauri, Director, Analytics & Applications Development.

Analytics-based application development allows taking a holistic approach to optimizing production.
During the development process, new functionalities and subsystems are continuously integrated with the software and then applied in practice based on customer needs.
"When applications are being designed, it's important to take into account different user groups (maintenance and production, for example) and their user experience, and to evaluate carefully how the new applications will create value for the user," he adds.
Fostering mill- or plant-wide optimization
At Valmet, the offering of Industrial Internet applications and services is based on know-how in process technology, automation and services. For example, paper machines can be equipped with features to predict failures and help control product quality.
In future, machines and equipment will constitute one part of a wider production system that creates value, with software transforming data into digital services and solutions. The constant accumulation of high-quality data is a key source of business value.
"Thanks to the accumulated data, it's possible to take a holistic approach and optimize production by evaluating the whole production chain. Operating costs can be reduced while increasing output at plant and process level," Matinlauri says.
For instance, raw materials and energy make up some 80 per cent of paper machine production costs. In the new data-driven world, he adds, the objective is to optimize production to achieve the optimal overall profit margin. The target is to cut raw material and energy costs, minimize unplanned shutdowns and reduce the number of web breaks.
"Downtime is often a gray area in operating costs. For example, paper grade changes on a machine result in low production time. Mill- or plant-wide optimization enable these operations to be better linked to the production schedule."
The focus is on ensuring the smooth operation of the machines. "The more machines can be kept up and running, the better the return on the capital investment. These principles and tools can be applied to all industrial operations."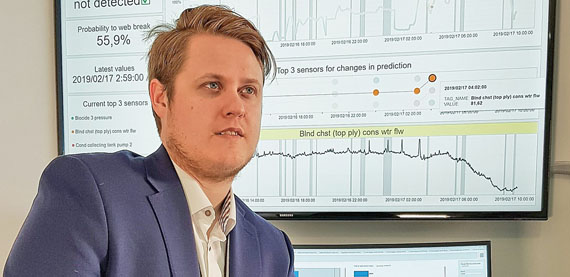 "During the development process, new functionalities and subsystems are continuously integrated into the software and then applied in practice based on customer needs," says Matinlauri.
Emerging ecosystems
Matinlauri describes his recent visit to a paper mill which aims to be fully Artificial Intelligence (AI)-controlled in two and a half years' time.
"Although the mill does not have well-developed automation solutions yet, this step change is a fully realistic and achievable target. It involves the development of advisory solutions based on data flows and the increased autonomy of machines. As they're starting from scratch, they can avoid common mistakes and derive benefit from current tools and technical development."
The new AI-based systems will automatically classify and synthetize data from databanks. They will not need a huge amount of information to be able to learn, as they can draw conclusions from one or two examples and then always recognize the same patterns exactly.
Matinlauri confirms that AI applications are evolving rapidly, and the evaluation of data flows will enable the creation of new kinds of ecosystems.
"Partners in the value chain can exploit this data in developing their products and boosting their existing business by creating innovative new services. Success requires not only new technologies, but also a customer-centric mindset for value to be created and captured in a new way."
In future, Matinlauri foresees technology providers playing an even greater role as "performance partners" for their customers.
A dialogue with data
The pace of product development is ever accelerating, fueled by factors such as the rapid development of AI.
"So far, manufacturing industries have fallen behind in development because there is a need to process a huge amount of accumulating data, and the tools for this haven't been available. These tools are now available, so manufacturing companies will be able to take a quantum leap here and benefit from rapid AI development," Matinlauri believes.
The next step in digitalization will be to improve the visibility and profitability of a plant or mill by analyzing and utilizing data even more widely for the benefit of the customer.
"We need new AI-driven applications that bring more transparency and understanding into the decision-making process. This is how humans will begin to trust the support of these analytics, and the time will soon be right for fully automated operations as well," he explains.
Advanced analytics provide good tools to evaluate indicators signaling a need for predictive maintenance, such as temperature and vibration measurements or energy consumption. In any case, there will always be unexpected deviations at the mill or plant, so we will need humans to solve these problems. Automation systems can take care of stable operation in the meantime.
"The skillsets needed to operate the autonomous mill of the future are actually more demanding than those to operate a conventional one. So Valmet and our customers are constantly exploring ways to secure that skill and talent to serve a wider fleet of equipment," adds Matinlauri.
Ultimately, data analytics is just one of many methods available to support decision making. Other methods must also be brought into play to enable the analysis of variations and the comparison of different options.
"Digitalization brings more transparency to decision-making processes. Perhaps the key quality we will need from future leaders is not just comprehensive experience, but also the ability to analyze and draw conclusions directly from the data in making decisions," concludes Matinlauri.
Arttu-Matti Matinlauri works as the Director for Analytics & Applications Development at Valmet.