Professor Harry Gatterer takes a positive approach to the future, believing that overall progress is making the world a better place. He encourages us to find clarity in megatrends to navigate through the complex changes.
The world is changing rapidly, and we are in the middle of the turning point. The ongoing changes are diverse, complex and interconnected. They are influencing and reinforcing each other, and they are impacting all aspects of the economy and society – not only in the short run, but also in the medium to long term.
People are often troubled about the future because they cannot predict it anymore. Megatrends could help with this by working as a guideline for our thinking, bringing clarity to the future.
Clarity is power! It helps us to understand which trends and issues are really important to us.
"Humans are living in the very best times ever on this planet. There is no sense in talking about the future as a threat."
The courage to rethink
I believe that reflective thinking – the capability to analyze and make judgments – will be the key factor and main driver for triumph in the future. There are so many opportunities and positive solutions around us. We need to pause and choose very wisely when we pick the direction.
We need people who are able to envision and imagine the future and come up with novel ideas. They need the courage to adapt new technologies and do things differently, even if others are questioning their choices.
We need leaders who can bring passion to organizations and enable others to accomplish things. They must be coaches who encourage their team to work together and to bring those visions to fruition.
In addition, we need innovative business models that break down the tradition linear model of the economy and the old form of supply chains, where raw materials are used to make a product, and after its use any waste is thrown away.
The most prosperous companies are capable of concentrating on and reacting to essential issues like impact on nature and sustainability. For example, there is a lot of work to be done in finding sustainable solutions to major problems like collecting the plastic waste floating in the oceans.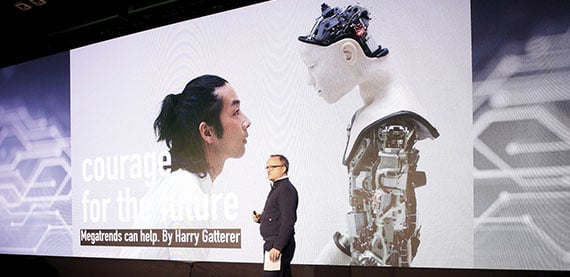 Seizing the digital advantage
In modern, data-driven societies, digitalization affects life everywhere. Digitalization has become a driver with a positive impact on human lives and the environment.
Predictability, in particular, is the biggest advantage that digitalization brings to complex systems. Digital tools can save human lives by warning us about potentially hazardous accidents, and they can help to save a lot of money by alerting us to the risk of breakdowns in machines and production systems.
Digital connectivity has also made sharing a major part of our daily lives. We can share rides, working spaces, or commodities that we need.
Ultimately, I think that digitalization is a good thing because we have more opportunities to define what really matters to us as humans, and then we can shape the technology with this knowledge.
But we cannot digitalize everything, so we have to rethink what we are doing and what our role as humans is in all of this.
Professor Harry Gatterer, from the Zukunftsinstitut, a futurology think tank based in Germany and Austria.
Article published in Forward magazine 1/2019.