Professor Harry Gatterer takes a positive approach to the future, believing that overall progress is making the world a better place. He encourages us to find clarity in megatrends to navigate through the complex changes.
"Humans are living in the very best times ever on this planet. There is no sense in talking about the future as a threat," emphasizes Professor Harry Gatterer from the Zukunftsinstitut futurology think tank, based in Germany and Austria.
Professor Gatterer can provide hard facts to back up his claims. According to United Nations statistics, global poverty rates have fallen by more than half since 2000, and enrolment in primary education in developing countries has reached 91 percent.
"We often think that there are still a lot of people in developing countries who cannot read or write, but this not true anymore. Approximately 80 percent of the population globally has these fundamental skills, which form the basis of being a part of modern society, as we understand it," he argues.
In addition, average global life expectancy has increased up to 71 years. "Many people in the Western world are concerned about the economic impact of the ageing population, and how our health and social insurance systems should be built to handle future demographic changes," says Professor Gatterer.
"On the contrary, the 'silver society' megatrend, as we call it, could actually have positive effects on the economy. Thanks to the older population, societies are becoming wiser, which will improve the quality of decision-making and result in new solutions to our needs," he predicts.
Megatrends as a route map
Megatrends are drivers that have enormous impacts on all aspects of the economy and society – not only in the short run, but also in the medium to long term. To study these changes, the Zukunftsinstitut has identified twelve fundamental megatrends.
Professor Gatterer visualizes these megatrends affecting the future as a metro map, where we reach our destination after passing through a series of individual stations.
"In the real world, there are numerous parallel changes going on at the same time, which influence and reinforce each other in impact. The changes are diverse, complex, and interconnected. To understand these tendencies, we have developed a system of megatrends though a visual map that describes how different aspects are linked together."
"The megatrends include numerous minor phenomena – such as individualism or mobility – but we bind them together with those major trends to bring clarity and simplification to our observations," he explains.
"People often feel threatened by the impact of megatrends and worried about the future because they cannot predict it anymore. We have created a system to help in guiding them. At the end we can say: 'Hey, it's okay! Let's calm down and just follow some lines!" says Professor Gatterer.
"Humans are living in the very best times ever on this planet. There is no sense in talking about the future as a threat."
High demand for new leadership
The new era requires a new kind of leadership. There is a need for leaders who are able to envision the future and create new ideas.
"As the future is unclear, you need a lot of courage to do things differently, especially when others are questioning your choices. We need people who can bring passion to organizations and enable others to accomplish things and shape the future. The future is not set, so we need leaders that have the courage to do things differently."
"Leaders have to become coaches that enable those visions and encourage team members to work together. Dialogue has to be based on empathy, understanding and feeling, and not on heroic leadership," predicts Professor Gatterer.
He adds that there are a great many opportunities and positive solutions around us, so we have to pause and choose very wisely when we pick the direction in which we invest all our efforts.
He especially praises new business models that break down the tradition linear model of the economy and old-fashioned supply chains, where raw materials are used to make a product, and after its use any waste is thrown away.
"For example, if most of a company's income comes from leasing and maintenance services, then they will manufacture better devices that are more economical to use and will last far beyond the end of the warranty period."
According to Professor Gatterer, he most prosperous companies are capable of concentrating and reacting on essential issues. "I believe that success is based on reflective thinking – the ability to analyze and make judgments will be the key factor and main driver for triumph in the future," he predicts. "There is a lot of work to be done in finding sustainable solutions to major problems like collecting the plastic waste floating in the oceans, but these cannot be completed without some reflection."
Seizing the digital advantage
Digitalization has become a driver that has a positive impact on human lives and the environment. Predictability, in particular, is the biggest advantage that digitalization brings to complex systems.
"Digital tools can save human lives by warning us about potentially hazardous accidents in workplaces. They can help to save a lot of money by alerting us to the risk of breakdowns in machines and production systems."
Digital connectivity has also made sharing a major part of our daily lives. "We can share rides, working spaces, or commodities that we need. Thanks to digitalization, we have more opportunities to define what really matters to us as humans, and then we can shape the technology with this knowledge."
Professor Gatterer notes that the hype around artificial intelligence and robots taking over jobs is greatly exaggerated.
"If robots did everything in our societies and we all lost our jobs, that would be the greatest achievement ever! There is a lot of work and interaction that can only take place between humans, so we could concentrate on these issues instead of money and our daily routines. Of course, this is just a kind of Utopia, and it is not going to happen in the next few decades."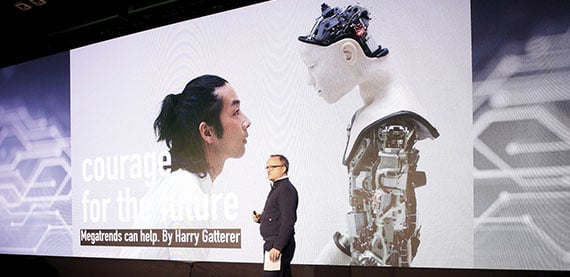 Making people to resonate
In modern, data-driven societies, digitalization affects life everywhere, but Professor Gatterer prefers already to talk about the post-digital era.
"We are already living in a post-digital reality. Nowadays, it is normal to wear smart materials and use digital systems. Things that were once very alternative have become common. That's why I think it's good to step back and put some distance between us and all the hype, and concentrate on all the advantages that digitalization is bringing us."
Digitalization has simultaneously spawned a trend for "retro". People are buying vinyl records and books because they want to touch and feel something in their hands. Even sales of old-fashioned electric guitars have been skyrocketing lately.
"People need to do things that resonate with others. We have to have and share new ideas or feel the music, because that is something that makes us humans," Professor Gatterer reflects.
"Ultimately, I think digitalization is a good thing because we have to reconsider the value of human interactions in our system. We cannot digitalize everything, so we have to rethink what we are doing and what our role as humans is in all of this."
Professor Harry Gatterer works in the Zukunftsinstitut, a futurology think tank based in Germany and Austria.
Professor Gatterer took the stage and shared his views at the Valmet Customer Days in Vienna last October.
Article published in Forward magazine 1/2019.