Over a decade after its decommissioning, a recovery boiler at DA Alizay in France was brought back to life and converted into a biomass boiler to produce green energy.
The idea of modifying an old recovery boiler for a new purpose emerged at the DA Alizay paper mill after it was decommissioned in 2008 but was almost forgotten for years. In 2018, a new subsidiary called Biomasse Energie d'Alizay was founded to produce steam and electricity from biomass at the existing power plant.
Valmet was chosen to convert the recovery boiler into a biomass boiler utilizing bubbling fluidized bed combustion technology (BFB). The fact that Valmet has more than 60 BFB conversion references over the past 30 years played a major role in the supplier selection.
"There are many suppliers of new boilers but only a few who are able to modify an existing boiler into a BFB boiler. We chose Valmet based on its experience from these kinds of projects," says Eric Lardeur, Industrial Development and QSE Manager at DA Alizay. "We had worked with Valmet earlier in our pulp and paper mill and knew that Valmet has the know-how of every aspect in the pulp and paper industry. We also needed to be sure after modification that the boiler would meet the European Union's stringent emission limits. Valmet was the only company with sufficient experience for this."
In addition to the boiler conversion, Valmet delivered a complete Valmet DNA automation system and an Industrial Internet based advanced process control (APC) application, Valmet DNA Steam Network Manager, for online control and optimization of the steam network. Valmet DNA was already being used by the paper mill.
Recycling as many boiler parts as possible
Converting the boiler plant that featured buildings, equipment and technology from several decades provided a good opportunity for recycling. The boiler building and most of the auxiliaries were reused in a sustainable and resource-efficient way. But there were challenges, too.
"Matching new parts with old ones was a tough job, especially because documentation from all the old parts was no longer available. Verification and ensuring the existing designs and equipment made up an essential part of the engineering work. We laser scanned the boiler house and created a 3D model from it," says Valmet's Project Manager Jyrki Mäntylä.
The furnace's lower section was modified to accommodate the BFB firing system, and the required auxiliary systems were installed outside the boiler. The heating surfaces of the boiler did not require any modifications. The emission control systems consist of advanced combustion control, an SNCR system and the modernization of an existing electrostatic precipitator.
The plant has a steam capacity of 209 t/h at 62 bar and 460 °C, which corresponds to a power production of 50 MWe.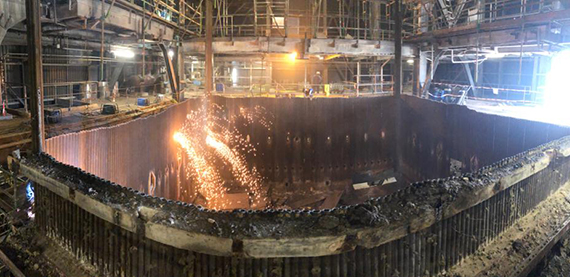 Pandemic messed up the schedule
Startup was originally scheduled for the summer of 2020. But due to the COVID-19 pandemic, the site activities were completely stopped in March for three months.
"When we restarted the work in June 2020, we implemented new rules about social distancing and the use of face masks, set up plenty of hand washing facilities and had fewer people working in the same place. We drew up an action plan in case someone became sick with the virus, but luckily there were no cases of COVID. All in all, there were zero accidents during the project," says Eric Lardeur.
Commissioning, startup and the guarantee test were carried out with minimized staff on site. Remote connections via the Valmet DNA automation system between the plant and Valmet's experts in Finland proved to be a very useful tool in monitoring process performance.
"We are very happy"
The converted boiler was successfully commissioned in January 2021 and taken over by the customer in February 2021.
"The project and the BFB boiler definitely meet our expectations," Lardeur says and continues: "I was really surprised how well the Valmet DNA system and the Valmet DNA Steam Network Manager application started up. I had thought that it would take some days or maybe weeks to optimize the network and have no steam released into the atmosphere. We are very happy with the boiler and steam network optimization."
Text: Marjaana Lehtinen