A new co-incineration plant with the world's largest recovered fuelfired boiler is providing Mälarenergi in Västerås, Sweden, with more fuel flexibility. It is also an investment in better sustainability.
"Valmet has several similar reference pla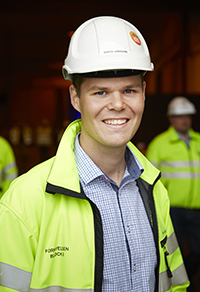 nts in operation today. They all have high reliability and function well. Valmet's technology is a well-balanced mix between proven solutions and modern technology," says Mälarenergi's Project Manager, Simon Jansson. (Photo by Mälarenergi)
Back in 2008, Mälarenergi, a provider of electricity, district heating and cooling owned by the city of Västerås, found itself with an aging CHP plant and increasing maintenance costs. The company had other long-term targets as well, including keeping district heating prices low, having secure access to fuel, and reducing CO2 emissions.
The company had three alternatives: modernize the existing units and add a new fuel mix, build a new waste fuel-fired unit, or build a new biofuel-fired unit. Feasibility studies showed that a large waste fuel-fired circulating fluidized bed (CFB) unit was most suitable to fulfill their many needs. The company chose Valmet's technology.
The new co-incineration plant was commissioned in the summer of 2014. It has the capacity to produce about 50 MW of electricity and 100 MW of district heat.
Flexibility in fuel mix
Valmet's turnkey delivery included a CFB boiler plant with auxiliary equipment, boiler building, electrification and process automation, accounting for about 30 percent of the approximately EUR 300 million modernization project.
| | |
| --- | --- |
| | The new boiler is the largest in its class in the world. It has a fuel input of 167 MW, and it primarily runs on refuse-derived fuel (RDF) recovered from a mixture of household and industrial waste. Biofuel is used during start-ups and disturbances. The plant can handle 480,000 tonnes of RDF per year, equivalent to around 50 truckloads per day. For feeding the fuel, Valmet delivered four Feeding Master lines. |
"The flexibility provided by having a separate biofuel feeding system has already proved to be a good investment, as it will help us further reduce our use of fuel oil. The possibility to run on biofuels gives us great flexibility in the fuel mix for the future. Unit 6 will be our main unit for decades, and to have the flexibility to use different kinds of fuels has been one of our main targets," Jansson points out.
Possible corrosion problems eliminated
Using RDF as a fuel presents challenges, as its quality can vary widely. "This means that the amount of energy recovered from it varies, too," remarks Tapani Nummelin, Project Manager in the Pulp and Energy business line at Valmet. "Another challenge caused by this fuel is corrosion. To avoid any corrosion problems, we paid a lot of attention to the materials used in the boiler and chose special solutions for the final stages of superheating."
Practically no space on site
The building project was challenging, too. There was almost no space on site, because the new boiler was built between an existing power plant, huge oil tanks and the harbor of Västerås. Nummelin continues: "As there were no pre-assembly or storage possibilities around the building, good scheduling was a must. We had to make a justin-time schedule for major deliveries and lift all equipment directly from trucks to their final assembly sites."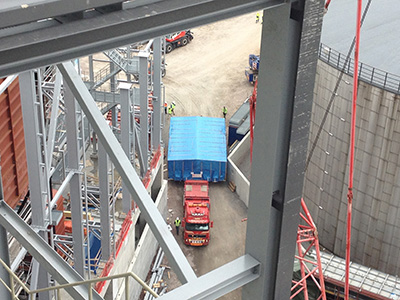 High-pressure elements made in Finland and Southern Europe arrived by ship directly at the harbor right next to the site.
Everything went according to plan; in fact, things went even better. For example, the pressure test of the boiler was carried out one week ahead of the original schedule.
Annual CO2 emissions reduced by 300,000 tonnes
The new boiler plant has turned Mälarenergi into a greener supplier of district heat and electricity, as it replaces old oil-fired capacity. The company will now able to reduce fossil-based CO2 emissions by about 300,000 tonnes a year.
"We are proud of our new Unit 6 and the successful way the project was executed together with our suppliers. The residents of Västerås will benefit from heat and electricity produced locally with high efficiency and in an environmentally friendly way," Jansson continues. "Cooperation with Valmet has been good throughout the project. Our relationship has been characterized by a professional attitude, high technical knowledge, good flexibility, and the ability to find efficient solutions to the challenges that arose during the project."