By guiding operators, the Valmet Fuel Power Maximization application enables Tampereen Sähkölaitos to unleash hidden production potential caused by varying fuel power at the Naistenlahti combined heat and power plant in Tampere, Finland.
How to increase the fuel power level and use more renewable biomass instead of milled peat at the Naistenlahti plant? That was the tricky question asked by Jari Pinomäki, Production Manager, and his colleagues at Tampereen Sähkölaitos a few years ago.
"We were not pleased with our fuel power level. There were many technical limitations set by the process equipment, and we did not always know which device was limiting a fuel power increase," Pinomäki explains. "Additionally, maintaining the desired fuel power level was challenging. It was difficult to understand the operating window and figure out whether the fuel power had been maximized or whether there was still some unused potential."
Over the past decades, Tampereen Sähkölaitos has cooperated closely with Valmet on many projects. Its plants utilize Valmet's energy production technology extensively, and all of its plants are operated with Valmet's process automation and information management systems.
"When Valmet presented us with its digitalization capabilities, Valmet Industrial Internet (VII) applications and data utilization in energy production, an idea came to my mind that perhaps we could find a solution to help us better answer our questions about the fuel power," he continues. "One of our company's key goals is to benefit from digitalization in our production operations."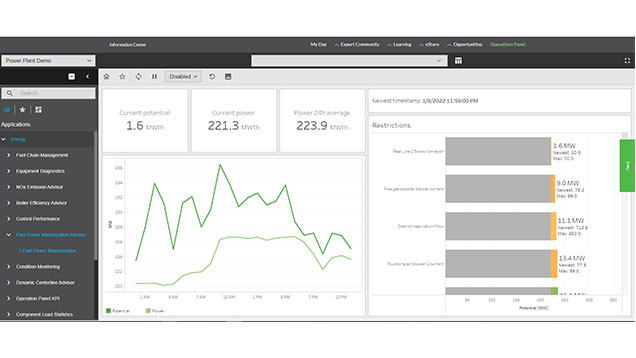 Real-time guidance for operators
To start, Valmet carried out an extensive VII for Data Discovery analysis to find process bottlenecks. In close cooperation with the customer, the supplier's experts analyzed the performance of all critical pieces of equipment and earlier measurement data to define limiting factors and set safe maximum operating points for them.
In early 2020, the existing Valmet DNA Automation System at the Naistenlahti plant was complemented with a Valmet Fuel Power Maximization application. It is part of the VII for Production Capacity for Energy solution to increase production potential.
"It shows the fuel power capacity to the operators in real time – and whether there is any potential to increase fuel power or not. It indicates how much potential in megawatts remains and which factor is restricting an increase. This information enables our operators to keep the fuel power as high as possible but also to maximize the share of biofuel," Pinomäki points out.
Additionally, the application informs the operators about how much they can increase production capacity with the current fuel mix.
When in doubt, the operators can contact the experts at Valmet Performance Center via a safe remote connection.
Every megawatt counts in profitability
According to Pinomäki, the Valmet Fuel Power Maximization application has met the expectations set for it. The Data Discovery analysis showed that there is potential to increase fuel power and consequently total plant production by two to three percentage points.
We have reached our targets and even exceeded them.
"We have reached our targets and even exceeded them with regard to fuel power. We are pleased with the solution, as we have been able to increase our fuel power and share of biofuels," Pinomäki says. "The solution provides advisory process data for our operators and organization to process further or predict upcoming events. Instead of personal opinions, we're working with data."
Naturally, fuel quality has a major impact on the fuel power potential. With varying fuel qualities, such as moisture or heat value, the plant is now continuously able to see the real-time fuel power potential. When the fuel quality is high, it is possible to increase the fuel power and vice versa with poorer quality fuel.
The Naistenlahti plant runs from early October to late May. According to Pinomäki, it is essential to run it at the maximum fuel power for almost the entire long heating season.
Every extra megawatt we can produce here improves our overall profitability.
"If we cannot maximize the fuel power, we need to replace some of our production with power produced at plants using more expensive fuels. The Naistenlahti plant plays an important role in our company's competitiveness and cost structure," he continues. "Every extra megawatt we can produce here improves our overall profitability."
The Valmet Fuel Power Maximization application benefits the environment, too. By maximizing the share of biofuels in the fuel mix, less peat is used, resulting in lower CO2 emissions. Pinomäki says that it has been possible to increase the use of biofuels by several percentage points. Additionally, increased fuel power and consequently higher production lower the need to use fossil fuels at peak load plants elsewhere.
As part of the Valmet Industrial Internet portfolio, the functionalities of the Valmet Fuel Power Maximization application can be fully automated when combined with advanced process controls (APCs).
Text: Marjaana Lehtinen