Focusing on intelligent vessels and marching on to marine desulfuration industry, Valmet takes advantage of its state-of-the-art automation technologies to deliver advanced solutions to the marine industry, at the same time, imports cutting-edge technologies and control systems to the marine industry in China.
Based on industrial accumulation and continuous innovation of more than 220 years, Valmet strives for leader of marine market.
Recently, experts of Valmet's shipping business received an exclusive interview by eworldship.com, introducing its major solutions for marine industry, development in Chinese market and future vision.
To 800 vessels did Valmet provide best reliability and operation in vessel automation
As an expert in the field of vessel automation, Vamet delivers advanced solutions to the marine industry.
Valmet's automation and information system Valmet DNA covers a range from process control, equipment control, drive control to equipment operation condition monitoring. Valmet DNA provides multi-purpose tools to analyse the historical trend and performance of integration system. By comparing key performance indicators, Valmet's energy consumption control system will further optimize performance and save fuel. Valmet DNA is suitable for a variety of vessels from cruise ships, ferries to offshore vessels alike.
Currently, over 800 vessels across the world are using Valmet's automation system. It is worth mentioning that the world's largest luxury cruise ships "Harmony of the Seas" and "Symphony of the Seas" are equipped with Valmet's automation system.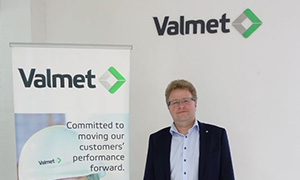 John Weierud, (on the right side) Director of Marine Automation, Valmet Automation (Norway), introduces: "The biggest feature of Valmet's system is its continuous update. As a marine automation vendor since 1979, Valmet is able to steadily provide ship-owners with related technical support, system updates and spare services. We have a systemic iteration process so that there is no need for any modification to the original program, which can greatly reduce the time for system update and maintenance. It is also a part of Valmet's continuous service for ship-owners, we run a life cycle management for marine automation."
With regard to the current status and future trend of global marine automation market, Weierud deems: "As a vender of automation system, Valmet focuses more on the service for shipowners over the control of vessels. Intelligent vessel is the future trend of marine development. While offering automation system, for better transmission and application of the vessel data, we also help ship-owners analyze current vessel operation data and conduct optimization of controls through Valmet's remote diagnosis platform, that is what we are working on now."
Receive the first order from China and be the pioneer to introduce hybrid solution to the desulfuration market

In the wake of strengthened control on vessel emission by International Maritime Organization (IMO), oxysulphide scrubbing became a desirable solution that satisfies the need of ship-owners and minimize the cost of vessel operation.
Valmet developed scrubber technologies with unique features that select scrubber as per operation condition of specific vessel, which includes open-loop/closed-loop and hybrid scrubbers. Valmet is also the first corporation to introduce hybrid solution to the market and has produced dual water hybrid scrubber and put into use. Currently, Valmet's scrubbers have been varified by major classification societies including DNV GL, LR, ABS etc.
Wang Shijie, Senior Sales Manager of Valmet China noted: "The control of Valmet scrubbers is completed by its own automation system, Valmet DNA. Another feature to distinguish them from other major competitors is that the shape and size of scrubbers can be customized according to clients' request, and the connection of air intake is more flexible. Thus our scrubbers may be more applicable for converted vessels, for which we can satisfy more needs from the clients."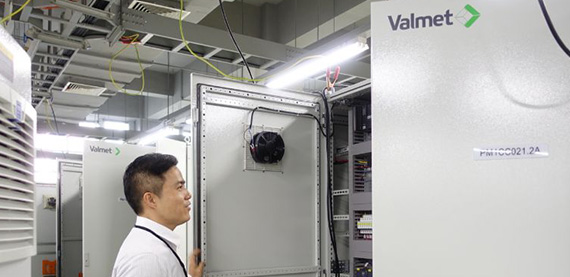 Qian Xiaomin, (above) Sales Management, Marine Automation, Valmet China told: "Valmet just received scrubber order from China COSCO Shipping Corporation Limited, involving conversion of 2 4250TEU container ships. This is the first order Valmet scrubber received in China, and it will soon be deliverable in the end of this month or the beginning of the next month."
With an industrial history of over 200 years, Valmet imports cutting-edge technologies to the marine industry in China
Valmet has an industrial history of over 220 years serving as a world leading developer and vendor in pulp, paper and energy field, provides technology, automation and services. Valmet holds its world leading position of sustainable development and has been listed in the Dow Jones Sustainability Indexes (DJSI) since 2014 for consecutive 5 years.
In 1979, Valmet entered the field of marine industry. For more than 40 years, products from Valmet have been extensively applied on a variety of vessels, largely high-end passenger vessels including luxury cruise ship, ro-ro passenger ship and ferry. Resulting from the advanced automation and exhaust scrubber solution, the vessels met their goal of being more environment-friendly, efficient and economical.
However, as a global corporation who entered the onshore industry field in China in 1980s, Valmet entered the Chinese marine market only in the last year. From the perspective of Valmet, China is, apparently, a huge market.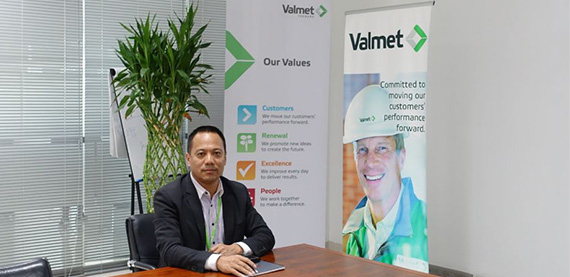 Valmet is aiming at the high-end passenger vessel market in China. Zhang Yanchuan, (above) Vice President, China Area at Valmet Automation pointed out: "Although Valmet is a latecomer of Chinese marine market, I consider present days as an excellent period of opportunities. The high-end cruise ship travels in China will have a long-term and continuous growth. With regard to this aspect, Valmet is also one of the integration vendors of automation for high-end cruise ships in the world. Valmet will contribute its strength to the development of cruise ship industry in China. Additionally, our automation systems are also applicable to LNG vessels, the advanced process control insures maritime safety while guaranteeing the operational efficiency."
Zhang Yanchuan said: "Valmet's vision is to be the best service provider in the world, not just providing equipment and devices, but the best service in the whole life cycle of the project to make sure that both the project itself and client investment realize sustainable application and development. One of our strategies is to import the most advanced technologies and control systems to Chinese market. Formerly, our control systems were targeted at markets like EU and US. For entering China, we need to work on localization to improve our competitiveness and service capability. With regard to process, for providing better services to Chinese clients, we will stress on the building of local capability of service and project management. We will keep on our paces of innovation, relying on the plentiful resources and giant R&D team and focusing on providing the most advanced technologies and solutions, to provide our clients with quick, timely and precise response."
"In the future, we will increase the input to Chinese domestic marine market, and become, not just a follower of the macroscopic trend, but the leader of the market", he noted.
Original text in Chinese language, published by eworldship, China.
For more information:
Curry Qian
curry.qian at valmet.com