The new Valmet DNA Dashboards take situational awareness to a new level by offering significant information and highly visualized process data for any user group – from operators to the CEO – at any location.
Imagine being in a situation where you immediately need to know all the key performance indicators (KPIs) of your mill or plant, let's say, to make an important decision. You can find this data scattered around in your plant or mill systems and reports, but you simply do not have time to gather it. You need the data right this minute!

This is where Valmet DNA Dashboards come in handy. Valmet has recently launched them as the first step towards the new nature of automation, in which an automation system turns increasing dataflow into meaningful information and increases dialogue with data.
Pre-analyzed, visualized data
Valmet DNA Dashboards use real-time and historical data already available in your Valmet DNA automation system and show it to you in a highly visual format. They enable you to immediately see, for example, what is currently happening in your process, what the KPIs of your production processes are, or how your product quality is developing.

"The dashboards are web applications that provide essential, pre-analyzed information presented in an easy-to-interpret way," explains Petri Tiihonen, Product Manager for Strategic Programs in the Automation business line at Valmet. "Based on our extensive process know-how in the pulp and paper and energy industries, we have been able to develop industry-specific dashboards, unlike any other supplier."

"The Valmet DNA Dashboards can be used in offices, control rooms or maintenance workshops – you name it. And they can be used mobile in any location – even on your own couch at home."
Use anywhere you need data
Valmet DNA Dashboards are based on existing Valmet DNA products and solutions, and can be easily added to them. They collect data from DNA Process Controller and DNA Historian and visualize it for process or quality monitoring to provide real-time and recent historical data. This allows users to react to changing situations better and more quickly.

"Dashboards complement DNA Operate in control rooms, but their use is not limited to control rooms – far from it. They can be used static in meeting rooms, offices, corridors or maintenance workshops – you name it. And they can be used mobile in any location – even on your own couch at home," Tiihonen points out.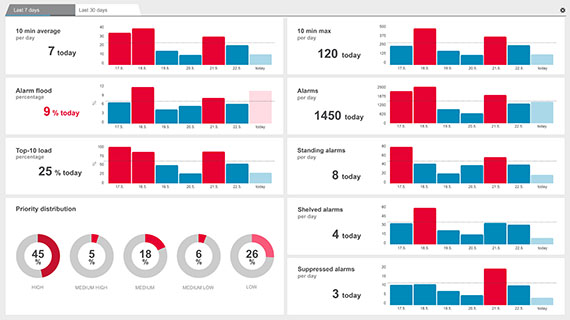 DNA Alarm Dashboard provides an overview of the alarm system and allows you to see key alarm metrics at a glance. It helps minimize the number of alarms and design a more efficient alarm philosophy.
Designed with the user in mind
Modern user experience principles played a central role in the application design of the dashboard concept. The information content and presentation format were chosen to respond to the tasks and challenges of different user groups and roles. In this way, the dashboards truly turn data into meaningful information for users.

It is possible to complement the Valmet DNA Dashboards with Valmet Industrial Internet applications and services.
Dashboards for multiple industries
Valmet has launched dashboards for various applications. There is an alarm management dashboard suitable for all industries. For the paper, board and tissue industries, Valmet provides a dashboard to monitor quality and production monitoring. For the energy industry, there is a dashboard for monitoring energy production and availability, as well as emissions and production efficiency. For the pulp industry, Valmet offers a dashboard for monitoring pulp production, and departmental and bale quality.


Benefits of Valmet DNA Dashboard in brief
•Provides key performance indicators to different user roles in a plant
•Connects easily to existing system data
•Essential, pre-analyzed information clearly visible and easy to interpret
•Can be used with a mobile device without any installation
•Can be made available to any user group, from operators to the CEO
•Provides a starting page to drill down to more detailed reporting or analysis
Contact person
Petri Tiihonen
Product Manager, Strategic programs
petri.tiihonen(at)valmet.com
+358 40 080 6897