"The poor capacity of our disc filters was causing us major problems. They were a truly troublesome bottleneck and the entire process was negatively affected – finding the right solution was a must," says Patrik Jansson, Operations Engineer at Holmen's mill in Hallsta, Sweden.
"We were initially skeptical that a corrugated filter bag could be the solution, but because the idea of investing in new, costly disc filters was not all that attractive, we decided to give Valmet's WavStar filter bags a try. The alternative, with sectors in corrugated steel instead of filter bags, was not an alternative for us either. The references we looked at showed that it was difficult to achieve the promised capacity, and even if the service life of plates is longer than for filter bags, the cost of investment is high.
"Using corrugated filter bags was a new thing for us, and we wondered how long the filter bags would last. But because Valmet promised a service life of at least three years, we felt secure in moving forward with our decision, despite a few misgivings."
Stable capacity increase
"Now that we've evaluated the results after the filters have been running for more than two years, we can see the benefits and we know that the major benefit is in the increased capacity, which means we don't have to invest in more filters," says Patrik Jansson. "The corrugated fabric significantly increases the sector's surface area, which explains why dewatering is now so much more effective.
"The numbers send a clear message. Since the installation, we've been able to increase capacity from 1,000 to 1,200 tonnes per day – a 20 percent rise – that has been stable throughout the time we've been using the filter bags. Part of the increase is due to us changing the cleaning and cake discharge shower system and getting a bit better at caring for our disc filters. However, the main reason is the new filter bags."
Speed fundamental
"Another positive effect is that the nozzles do not get clogged," Patrik Jansson continues. "At the high speeds we were running at before, this was a big problem. High speeds also produce poor, thin pulp cakes. Contrary to what one might believe, it's an advantage to be able to run at a lower speed, because it is difficult to get the pulp to form a good cake at higher speeds. We've been able to reduce the speed from 1.8 to 1 rpm, which is ideal – the filtering is good and the fibers have time to build up into a cake with the right moisture content and thickness. Since the cake is thicker than before, the filters are also cleaner.
"Valmet installed the first filter as part of the comprehensive service, but since then we've replaced them ourselves. One difference from before is that we now change all sectors and fabrics at the same time. Before, we constantly had bad fabrics that had to be frequently replaced. Determining which sectors had to be replaced was time-consuming when you consider that we had 360 sectors to monitor."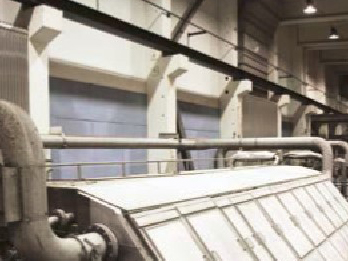 The first of Hallsta's filters that is fully equipped with WavStar.
Analysis – an aid in service
"General disc filter maintenance is performed during the autumn," says Patrik Jansson. "One sector is taken down and samples are sent to Valmet for analysis. This tells us how much strength remains in the weave and can even indicate the expected service life, which is handy. The analysis also includes technical operation discussions. We really appreciate the technical support we receive from Antti Mäkinen at Valmet. Both maintenance and service have become much easier."
Bottleneck eliminated
"With WavStar filter bags, the bottleneck was eliminated," Patrik Jansson concludes. "Dewatering for the disc filters is now properly dimensioned, the process is optimized and the filter bags work really well – we're extremely pleased with the results!"