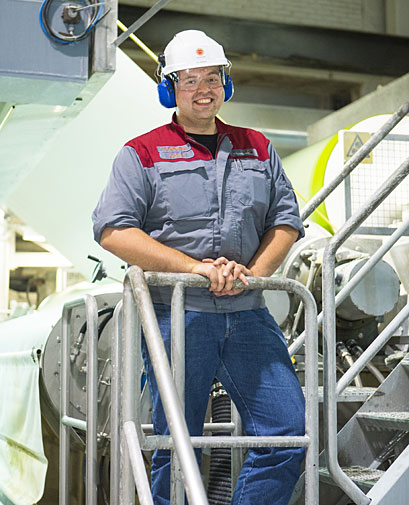 iRoll Sizer, Valmet's* intelligent roll for the sizer, provides a new way to improve the quality of coated paper and board by measuring the applicator rod profile and sizer nip profile online for a better coating result. It also helps to improve runnability. PM 2 at the Stora Enso Anjala mill in Finland offers a good example of how the iRoll Sizer can help to solve runnability challenges and optimize coat weight profiles.
Stora Enso Anjala PM 2 produces 180,000 tonnes of coated book and printing papers per year, running at 1,000 to 1,350 m/min. After a modernization in 2009, the line started suffering from sizer runnability difficulties. These problems were the result of inaccurate sizer nip loading.
According to Production Manager Antti Outinen, the fluttering and wrinkling of the sheet edges were, from time to time, major problems and the situation got particularly difficult with coated grades and after grade changes. The coat weight profiles of coated grades with 5 to 8 g/m2 of coating per side were also in need of improvement. Profile variation was relatively wide, and the coating profile was slightly skewed.
To solve the above runnability problems and to increase knowledge of the sizer nip's behavior, the world's first iRoll Sizer was installed on Stora Enso Anjala PM 2. The iRoll Sizer allowed the nip load profile and loading level to be measured during production. Once the information about nip loading was available, the nip could be tuned accurately to assure symmetric loading and the right load level. In the case of runnability issues, the changes in nip loading could be seen immediately. This was a major improvement compared with the mill's earlier ability to measure nip loading only under static conditions during shutdowns.
Besides the nip load, the applicator rod profile could also be measured and optimized online with iRoll Sizer. The bottom coat weight profile was optimized by straightening the applicator rod profile with manual spindles based on iRoll profile data.
Superintendent Ari Pöntinen is pleased with the results obtained: "The overall 2-sigma variation of the coat weight profile has been reduced by 40% and the skewness of the coat weight profile has been totally removed." The next step will be to also tune up the topside for even better coat weight profiles. iRoll Sizer with automatic spindles would also enable closed loop control of rod profiling.
The newest addition to the iRoll product family
iRoll Sizer is the newest member of Valmet's award-winning iRoll product family. iRoll Sizer supports the best possible rod profiling through online measurement of the applicator rod loading profile. Optimal rod profiling can cut coat weight profile errors by half, even with manual profiling. In addition to rod profile measurement, iRoll Sizer also facilitates online monitoring of the sizer nip load profile. This helps to prevent skewed nip loading and to time roll maintenance exactly when roll covers wear out. Optimal sizer nip loading can significantly improve the runnability of a film sizer press, as wrinkling and fluttering issues are removed. iRoll Sizer is available for Valmet's CoteFalcon and X-Mate X polyurethane covers.
iRoll operating principle
The same technology platform is used for temporary iRoll service measurements.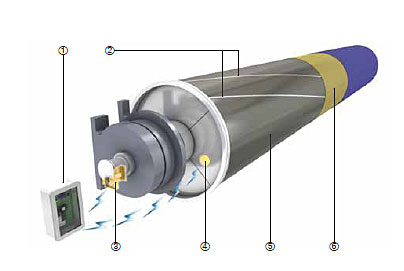 1. Receiver
2. Spiral mounted film sensor on the roll body for measuring nip load profiles
3. Wireless power supply system
4. Signal processing module & transmitter
5. Reel drum
6. Roll cover
Besides the new iRoll Sizer, a broad range of other iRoll applications are also available for sheet quality and runnability optimization. iRoll Reel Drum is a tool for measuring parent roll hardness and reel nip load profiles online. iRoll Tension, in turn, is a tool for measuring web tension profiles online without any separate scanning devices. iRoll Winder enables online measurement of nip loading in the winder nip and of customer roll set hardness profiles. iRoll Fabric facilitates online measurement of the tension and tension profiles of wet end fabrics.
iRoll working principle
The iRoll system consists of a precision-machined roll body, force sensors mounted in a helical pattern, roll covers, measurement electronics, digital radio transmission free of disturbance, service-free wireless power transmission, and a receiver system that is connected to a sophisticated user interface and the mill automation system.
What makes iRoll special is the fact that layout changes or external measurement devices, like scanners, are not needed: iRoll is just like any other roll in the process, which means it can be seen how the sizer rod application, web tension, or the roll hardness profile are really affecting the production line. iRoll Sizer, as well as other tools in the iRoll product family, can be easily fitted to existing machinery and connected to mill automation systems. iRoll measurements may be used to optimize the sizer rod profile manually or automatically.
(*Metso (Paper) until Dec. 31, 2013. Article published in Results customer magazine 3/2012.)