Stora Enso Langerbrugge utilizes renewable energy in paper production
The power boiler at the Stora Enso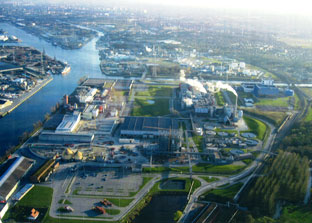 Langerbrugge paper mill in Belgium is the most versatile in terms of fuel range of the CFB boilers delivered by Valmet*). The boiler enables to remarkably reduce fuel costs. It also made the mill self-sufficient in process steam and almost self-sufficient in electricity. A delivery that took place well in advance and an efficient project management model helped save costs already before the energy production started.
The boiler, which started up in summer 2010, provides considerable fuel flexibility, and the design pays attention to the environment. It uses RDF (Refuse Derived Fuel) as its primary fuel, but also PDF (Packaging Derived Fuel), waste wood, sludge, gas and coal can be burned in it. The design also enables to utilize small quantities of plastic waste that are produced as a side product in the papermaking process.
Environmentally friendly solution
The paper industry has traditionally utilized expensive fossil fuels, because the paper process does not produce useful side products. Using RDF as fuel is still new in the pulp and paper industry, but there is lots of evidence of the technical functionality of the solution. "The Langerbrugge delivery is a convincing reference for any paper mill considering investing in a power boiler. Interest in similar solutions is growing", says project manager Peter Anson, Valmet.
Early start-up
Energy production was started one and a half months earlier than scheduled. According to Peter Anson "all it took was hard work": "We squeezed the time needed for different phases of the project wherever it was possible. We took into consideration everything affecting the delivery time as carefully as possible from the start. We speeded up the design phase by starting basic planning earlier. This provided better opportunities to prepare for the future phases."
Installation was implemented in close co-operation with the customer. According to Peter Anson, trust and openness are needed when operating with this model. "These issues hit the mark, and the customer is satisfied with the result", Peter Anson says. "The customer pondered the young age of our project team, but the outcome that exceeded the expectations convinced them of our skills." He wants to thank everyone involved in the project: "We had excellent resources from planning to test runs. Really, it was an outstanding performance from persons, of whom many are early in their careers. And the customer helped us succeed by taking care of their responsibilities in a professional way."
Efficient process
The operating efficiency of a power boiler is better when burning RDF compared to unsorted waste. Processed fuel enables process reliability and availability. The RDF is sorted before it is delivered to the Langerbrugge mill. Only the last remains, e.g. small metal particles in the fuel are screened, and the fuel is processed to a size that can be used in the boiler.
*) Metso until Dec 3, 2013