Superior sharpness and cut quality are what the world's top chefs value most in their knives. Even the best raw material can be ruined with dull equipment. The same applies to Norske Skog Skogn, where the winder slitters are kept in top-notch condition through Valmet's (Metso (Paper) until Dec. 31, 2013) Slitter Management Program. One of the success factors is clearly divided responsibilities.
The Norske Skog Skogn mill, located in central Norway, is one of the largest newsprint mills in Europe, serving demanding customers worldwide. It produces newsprint in the basis weight range of 42.5–48.8 g/m2 on three paper machines PM 1, PM 2 and PM 3, with a total capacity of 600,000 tons per year. The trimmed width of the newsprint varies between 6,600 and 8,470 mm.
Paper is cut into customer rolls on five production winders: four Valmet KL-1000 winders and one DuoRoller II winder by Voith. Their speeds range from 2,300 to 2,500 m/min, and they have 11-14 pairs in the slitter units.
Everybody knows what to do
Like most paper mills, Norske Skog Skogn used to re-grind the winder slitters in its own facilities with its own tools. However, in 2007, the mill entered into a tailored Slitter Management Program with Valmet concerning Winders 1 and 2. At the beginning of 2008, Winder 4 was included in the program. Since September 2008, the remaining two winders have also been covered by a long-term agreement.
Winder Production Engineer
Orla Trustrup at Norske Skog Skogn.
Both parties know their responsibilities, since they are clearly stated in the agreement. For example, while Valmet owns the blades and bands, the mill is responsible for changing and maintaining them. Maintenance planning and development support are carried out together. Grinding is Valmet's responsibility.
The mill set clear targets for the agreement. First, it wanted to reduce dust in the customer rolls and thus reduce customer complaints. Second, it aimed to achieve a visually neat slitting result. Third, it wanted to extend the change interval of blades and bands, and improve maintenance efficiency.
"With the Slitter Management Program, we don't need to focus on slitting quality. We can concentrate on other roll finishing matters and improve general roll quality," says Orla Trustrup, Winder Production Engineer at Norske Skog Skogn.
Norske Skog, Skogn, Norway, PM 1, 2 & 3 winders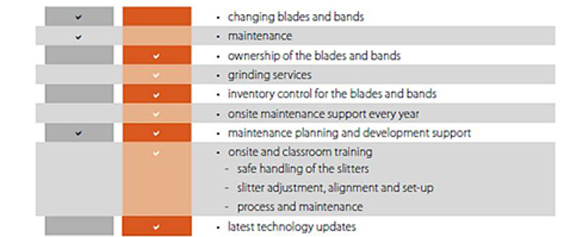 Higher roll quality, happier customers The decision about entering the Slitter Management Program and extending it to cover all five winders has brought good results. The process improvements are visible through less dust, better customer roll quality and less dishing. Printing houses have been very satisfied with the shipping roll quality.
"Dust was earlier a big problem for us and for our customers' printing processes. Now it is at an acceptable level, and we can focus on the winders' continuous development program. We have bought the best slitter material for high-quality slitting," Trustrup explains.
The targets set for maintenance improvement have also been reached. The knives now run longer than earlier and less maintenance is needed on the slitter section.
One of the main reasons for these improvements is Valmet's ability to superfinish the blades. When blades are re-ground in-house, it is simply not possible to reach such honing quality as when using special equipment. The slitter blades are safely stored in a SlitterCarry cart where they are protected from any damage.