To exploit the growth potential for containerboards in Thailand, the paper
manufacturer Siam Kraft Industry, a subsidiary of SCG Paper, has made investments in new production capacity in Thailand. They selected Valmet to supply a complete OptiConcept M boardmaking line with extended project implementation. PM 16 started up in October 2014, a full 11 days ahead of schedule, at the Ban Pong mill in Ratchaburi, Thailand.
Word-class energy efficiency
"The Thai market is pretty advanced compared to other markets in South East Asia. So we needed to invest in a more efficient machine, with sufficiently high production speed, the opportunity to take advantage of economies of scale, and the ability to produce high-quality board. These days, saving energy is on everybody's mind, and that was one of the drivers behind our investment as well," says Sompob Witworrasakul, Director of the Engineering Division at SCG Paper.
Lightweighting means raw material savings and reduced packaging costs
Producing containerboard with low grammages and while simultaneously maintaining high strength properties is a challenge for boardmakers. Siam Kraft's PM 16 tackles this challenge. PM 16 produces high-quality, 100% recycled fluting grades in a basis weight range of 90–150 g/m2. Lightweighting is about reducing packaging costs, which also greatly affects the entire packaging value chain. "The use of OCC as a raw material and other resources can be optimized. This impacts not only us, but also our customers: they are able to use fewer resources as well," says Sompob Witworrasakul.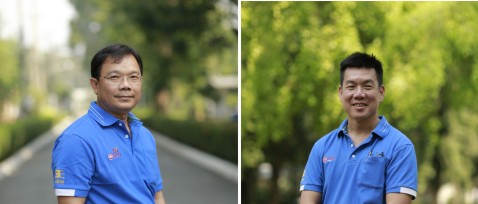 Peerapol Mongkolsilp, Mill Director of SCG Paper's Ban Pong Mill Complex and Sompob Witworrasakul, Director of the Engineering Division, SCG Paper.
Smooth project implementation
In addition to the OptiConcept M boardmaking line, Valmet provided extended project implementation covering complete mill engineering, installation and supervision services related to commissioning, testing and start-up. "This meant that our people were able to focus on project management, while one main supplier took responsibility for the wider scope of supply," says Peerapol Mongkolsilp, Mill Director of SCG Paper's Ban Pong Mill Complex.
Siam Kraft Industry Co., Ltd. – a subsidiary of SCG Paper – was the first packaging paper manufacturer in Thailand, and is one of the leading manufacturers in ASEAN, with production bases in Thailand, the Philippines and Vietnam. Its combined capacity is 2.3 million tonnes a year. The company's Ban Pong mill complex produces kraft paper, linerboard, corrugating medium and sack paper. Siam Kraft Industry is continuously expanding its production capacity to keep up with the growth in industrial demand, both domestically and internationally. "PM 16 showcases cutting-edge paper packaging technology. It combines state- of- the-art technology with SCG Paper's expertise, which means our company can now manufacture products that meet the needs of our customers in every way," says Wichan Jitpukdee, Managing Director of Siam Kraft Industry.