Daily maintenance of dryer cylinders is crucial for any paper manufacturer striving for excellence. Valmet's mill improvement expert team reduced IP Sun's dryer cleaning time, furthering their ambition to become one of China's leading producers of liquid packaging board. Following the on-site maintenance, the adaptability and stability of their end products was better than ever.
Board machine dryers are vital to enhancing the strength and smoothness of sheets and to improving paper moisture. It is no surprise that dryers are considered one of the most important parts of the dehydration process, after the press section. Nevertheless, dryer cylinders create a variety of operational challenges due to their large size and considerable weight, coupled with their price and the time required for installation and unloading.
High demands on end product quality
IP Sun places a great deal of emphasis on continuously improving their paper quality and fully satisfying the needs of their customers, while simultaneously expanding their market share, especially in the growing liquid package market. Securing end product quality demands a strict focus on strengthening the maintenance of dryers, preventing corrosion, and extending their service life.
The mill therefore needed rapid assistance when some sticking and corrosion problems emerged on the surface of the dryer cylinder of their PM 22 in May of 2013. Due to poor surface release properties, fluff and break times had increased alarmingly and the sheet moisture had abruptly deviated. Eventually, this resulted in quality problems in the end product.
An economic yet efficient solution
Valmet's mill improvement team recommended the Valmet Dryer Roll Cover DOH* anti-sticking coating service, designed for efficient on-site application. Its excellent suitability for onsite work meant that time-consuming heating with gas-based equipment was not needed. This allowed the mill to save time and avoid any negative effects of heating, such as possible changes to dryer dimensions.
Moreover, due to its innovative nanopolymer release material, Valmet Dryer Roll Cover DOH has unparalleled surface performance. The coating maintains its hardness even at the high temperatures found in the dry section. This leads to reduced wear, improved release properties and a longer service life. Due to the special chemical additive in the polymer, the coefficient of friction is 80% lower than in previous materials, which means better doctorability and reduced drive power consumption.
Professional service in the shortest possible time
After receiving the call from Sun Paper, Valmet's mill improvement experts quickly arrived at the mill site. First, the team identified the location and size of all the corroded areas, and then proposed the optimal solution based on the customer's preferred break time. Valmet swiftly assigned two recoating teams and two sets of equipment to work simultaneously on the dryer cylinders of PM 22. Both teams applied Valmet Dryer Roll Cover DOH anti-stick coating and completed the repair on-site in the shortest possible time.
A profitable partnership
The success of the project was highly regarded by the management teams of IP Sun and Sun Paper. Between June and November 2013, Valmet's expert service team successively applied Valmet Dryer Roll Cover DOH anti-stick coating to no less than 25 dryer cylinders on four different machines. In addition to dryer cylinder coatings, three suction roll shells were also serviced by the Valmet team. The expectations of brief downtime and minimal customer losses were met through successful cooperation.
"Valmet's service personnel were very professional and I was greatly satisfied with the coating results. Since minimizing downtime is very precious to us, it was crucial that the break times were reduced and the release properties significantly improved. Valmet saved lots of valuable time for us with their efficient and professional service," says Mr. Li, Mill Manager of PM 17 at IP Sun.
"We can now see a significant decrease in fluff and the surface of the dryer cylinder is very clean. Before the service was carried out, the dryer cylinder needed to be cleaned three or four times every shift. Now we only need to clean it once in every shift. Valmet helped us save lots of cleaning time," says Mr. Ma, Vice Mill Manager of PM 22 at IP Sun.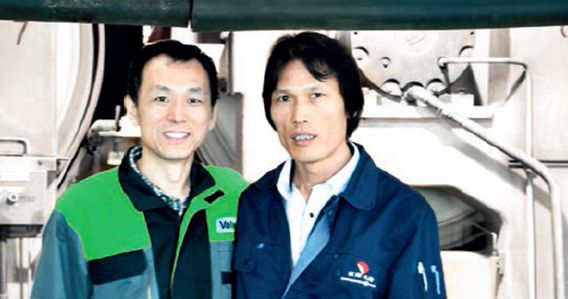 The head offices were very satisfied with the results. Valmet Mill Improvement
Service Engineer Qu Bo and IP Sun Mill Manager Han Guobin stand in front of the dryer cylinder.
About the mill
International Paper & Sun Cartonboard Co., Ltd., located in Yanzhou in China's Shangdong province, is boldly taking up the challenge of answering to the country's increased demand for liquid packaging board production. A joint venture between the American firm International Paper and China's Sun Paper, the mill's annual output is more than 1.4 million tonnes of liquid packaging board, folding boxboard and solid bleached board. With its newest cooperation, IP Sun plans to deliver 300,000 tonnes of sterile liquid package board in the near future.
*earlier known as DryOnyx H