Håkan Kinnunen, Maintenance Manager at Stora Enso Kvarnsveden (on the left), and John Fridebring, Product Sales Manager at Valmet. "Good relationships come from good products that perform well, such as Calender Roll Cover CL," notes John Fridebring.
After the long journey that the pulp makes through all the papermaking phases, calendering represents the final chance to improve the quality of paper before it is rolled up and shipped. Great demands are therefore placed on calender roll covers, which are often required to perform under challenging conditions. A long, uninterrupted run that produces consistent paper quality requires excellent wear and barring resistance, as well as high nip load durability even at high speeds.
Save costs with long, reliable runs
Valmet has developed Calender Roll Cover CL*, a new composite cover for calender rolls uniquely designed to meet these tough calendering requirements. It is the first calender roll cover to utilize both a new polymer and fiber reinforcement, with a special focus on combining durability with a homogeneous micro-structure, resulting in a very smooth surface.
These factors combine to give Calender Roll Cover CL extremely high wear and barring resistance, allowing extended running times. This nanotechnology newcomer is another step towards trouble-free papermaking and significant cost savings.
Excellent roll cover durability
Wear resistance is important for all rotating rolls in the paper machine, but perhaps nowhere as much as in the calender. The dry, abrasive paper is in direct contact with the elastic composite cover under high loads and often at very high speeds. Doctoring for paper grades such as SC or DIP-based paper also means special requirements for the wear resistance of covers.
Cover wear is often non-uniform, which affects the cover profile – primarily in the cross direction, but also in the roundness of the cover. When cover profiles deviate enough from the specified values, paper quality and runnability suffer. Excessive local wear may even put the cover itself at risk. With Calender Roll Cover CL, the wear on the cover is minimal, reducing maintenance costs through longer grinding intervals and fewer cover changes.
130 days and still running
Calender Roll Cover CL's extended running times are clear, including in a multi-nip calender at a North American SC paper mill, where it has achieved a running time of 130 days at speeds of 1,170 m/min and a loading of 328 kN/m, and is still running. This has been the longest run in this position without profile problems, according to the mill.
Longer running times under vibration
The design of Calender Roll Cover CL also pays special attention to barring resistance. This is partly achieved by the high wear resistance, but another key factor is the resistance of the cover surface to deformation while absorbing the flexing in the nip. The advanced cover materials and cover structure of Calender Roll Cover CL resist the barring deformation of its circumference into the infamous star shape, permitting longer running times under vibration.
Doubled running times at Stora Enso Kvarnsveden
At Stora Enso Kvarnsveden's PM 12 in Sweden, high quality SC paper is produced with a modern 5 + 5 TwinLine multi-nip calender. After already achieving running times of about 800 hours with Calender Roll Cover CJ, the new Calender Roll Cover CL has nearly doubled that time, at almost 1,600 hours. The surface has remained very smooth throughout, even up to a Ra of 0.17 µm. Calender Roll Cover CL has managed this level of performance under harsh conditions: pressures of more than 400 kN/m and speeds of 1,130 m/min, while being doctored.
Anita Nordenström, Technician of the PM 12 TwinLine states: "With Calender Roll Cover CL, we can run much longer without vibration." Longer running times have also given Maintenance Manager Håkan Kinnunen more flexibility in planning roll changes.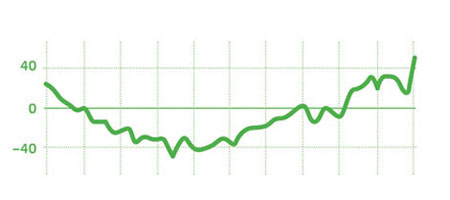 As the cover profile after PM 12 TwinLine's running shows, uneven wear in the cross direction is minimal, despite aggravating factors such as high load, doctoring and abrasive SC paper. The diameter deviation of the scale is less than 100 µm.
*earlier known as CalLeopard. Article published in Forward 2/2014.