OMC2 Superintendent Rainer Griesemer (left) and Mechanical Engineer Ulla Peura agree: "All of our expectations were met. We are happy with this project and the savings we achieved."
Extra drying capacity and up to 35% saving in drying energy is a win-win investment for a paper company. It sounds easy to justify, but you have to consider the size of the investment as well. To be realistic, in today's economic climate, any decision to invest should strike a good balance between the savings, the total project costs and how much a company can afford to spend. With the right balance, a proposal becomes even more attractive and ideal for today's difficult market condi­tions where many companies have high ex­pectations to save energy but limited cash available for major process rebuilds. And, if you can achieve the savings quickly, that's even better for the project's viability.
Sappi Fine Paper's Stockstadt mill in Germany has just made an ideal invest­ment with the installation of Valmet Air Dryer Nozzles* in an existing air dryer after the first coating station of the mill's off-machine coater number 2 (OMC 2). The Beloit OMC 2, started up in 1992, produces wood free coated grades with grammage rang­ing between 90 to 200 g/m2. An up to 35% energy saving was achieved, bettering Valmet's** guarantee, and, remarkably, this was soon after a short five-week delivery. Sappi Fine Paper's decision was backed up by the fact that it has already achieved excellent results with previous installations of PowerFloat air dryer nozzles at mills in Kirkniemi and Kangas in Finland. The coating dryers there have added extra dry­ing capacity and enabled energy savings by eliminating the need for infrared drying.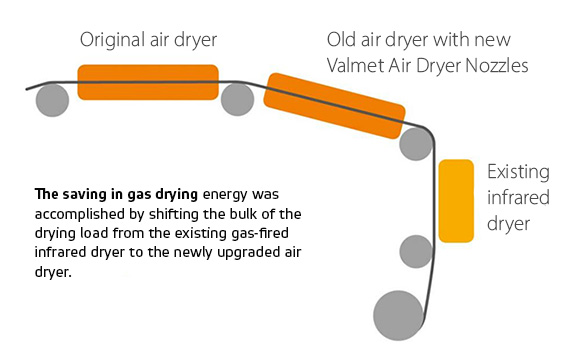 Replacing low efficiency with high efficiency
The project was proposed by Valmet as a simple retrofit project, not a drying system reconstruction. By replacing the original supplier's air nozzles with the new PowerFloat nozzles much higher drying rates can be achieved and the opportunity to save a considerable amount of drying energy is possible. Valmet offers this flexible and practical solution for existing dryers supplied by a variety of vendors.
This saving is accomplished by shifting the bulk of the drying load from the exist­ing gas-fired infrared dryer to the newly upgraded air dryer. Simply put, the energy in natural gas is used more effectively and efficiently in the air dryer than in the infrared dryer. To keep the project cost low, existing fans, gas burners and ductwork were kept in place.
Less than one year payback
Ulla Peura, Mechanical Engineer, explains that the project ROI, which was calcu­lated as less than one year payback, was defined mostly by savings in natural gas consumption in the infrared dryer after the first coating station and replacing that drying capacity with more efficient air drying. Also, with the extra drying capacity in the upgraded first air dryer the second air dryer can be shut off while running lighter weight grades, under 135 g/m2 total weight. Some important maintenance savings will also be made, since expensive infrared emitters will not need to be replaced from time to time. By compari­son, the air dryer nozzles are essentially maintenance-free.
Peura explains another essential part of the project economics and logistics: "It was important for us not to have to rebuild the air supply, exhaust systems, or gas burners. As a result, it was a simple project. We didn't have much time either, only five weeks and the timing was critical due to a shutdown on PM 2". Valmet responded with a five week delivery from order to start-up within a three day window in March 2010, so the results were achieved quickly.
With the upgraded air dryer providing extra drying capacity, 4 rows of infra­red emitters could be switched off. The remaining two rows are used for cross-direction moisture profiling. Peura says the original guarantee of 28% energy savings was bettered and the total savings are up to 35%. "All of our expectations were met," she says. She also notes that there is no effect on coated sheet quality.
*earlier known as PowerFloat nozzles
**Metso (Paper) until Dec. 31, 2013