Metsä Fibre is a world-leading producer of pulp for high-quality paper, board and tissue producers in Europe and Far East. In its mission to be the most professional and efficient company in the pulp industry, quality measurements play a significant part in ensuring customer satisfaction and over the years Metsä Fiber has strongly supported the automation of standard laboratory tests.
The Valmet Dirt Count Analyzer (Valmet DCD) found a perfect fit with this philosophy already in 1992 when the first unit developed together with Metsä Fibre was delivered to its Äänekoski mill. Since that time, Metsä Fibre personnel have actively collaborated with Valmet's DCD design team and the latest result is a third generation device soon to be delivered to Metsä Fibre mills in Joutseno and Rauma.

Dirt count and brightness are essential properties that determine the quality of pulp. But manual laboratory tests are labor intensive and often a quality problem is already well established before it is detected manually. Valmet DCD provides accurate, high frequency and quickly available dirt count, brightness, and color information automatically from a whole sheet at regularly timed intervals from the bale conveyor. A robotic lifting frame picks up the top sheet from a bale and transfers it to the analyzer beside the conveyor. Camera systems on both sides of the sheet closely duplicate the visual inspection procedure, which in the laboratory would be done on a light table. High resolution images of dirt specks from both sides of the pulp sheet are used to provide dirt count properties without the subjective bias and inconsistencies of the laboratory inspection techniques. Brightness and color measurements can also be performed at the same time for complete analysis of the visual properties of the sheet. Pulp sheet measurements, available within 10 minutes allow fast quality verification and can be transferred instantly to the millwide information and quality management system.
ISO Standard measurement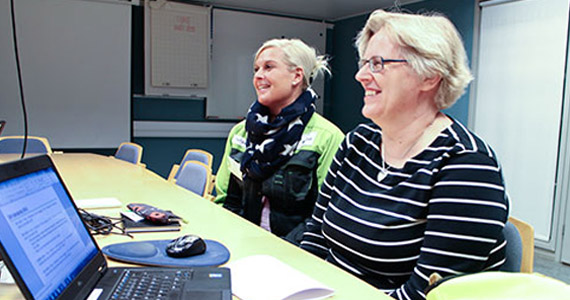 "The biggest advantage for our mills is measured in time," says Outi Poukka, Metsä Fibre development manager. "Visual inspection done manually in the laboratory can take up to 25 minutes and is not frequent enough to provide a consistent picture of quality. DCD measures six sheets an hour, online 24/7, and gives us the information that our customers need.".
Metsä Fibre's Tari Väätäinen, Fiber Technology Manager (left), and Outi Poukka, Metsä Fibre's Development Manager.
All four Metsä Fibre mills presently measure dirt count from wetted sheets with the DCD analyzer, the new analyzer now makes it possible for a dry sheet analysis followed by a wet sheet one. With earlier versions, the sheet measurement was either wet or dry but not both. For Poukka the wet and dry measurement possibility is a real plus, "We get far more information from the sheet, dirt count and brightness are supplied with each delivery. Both measurements are in accordance with the ISO test standards which means our customers can be really sure that the pulp they are buying meets their requirements."
| | |
| --- | --- |
| | Metsä Fibre's Tari Väätäinen, Fiber Technology Manager, compares the results from the new DCD dirt count analyzer with Outi Poukka, Development Manager |
Wet and dry to see all the dirt
The DCD analyzer uses two camera assemblies to measure both sides of the sheet, especially important with heavy grades; with images synchronized so that a dirt speck visible from both sides is not counted twice. After the dry brightness measurement, wetting the sheet makes it more translucent for better contrast between the dirt and pulp, however wetting can also make some dirt translucent and escape detection. By utilizing both the dry and wet measurements, this third generation DCD analyzer makes sure that all impurities in the sheet are seen. Dirt speck images are saved in the unit's database for more detailed analysis on a video terminal. At the same time, the unit measures sheet brightness, averaged from several readings. Color measurement is also available. The results of the measurements are displayed on the unit's video terminal and sent to the production management system. DCD has provided standardization across the entire Metsä Fibre organization allowing consistent quality information for customers that is measured by the same method in each mill.
Real time quality verification
Metsä Fibre employs a real-time pulp quality control method at all of its mills, measuring the technical properties of the product as it is manufactured at the pulp mill. DCD dirt count and brightness are recorded to bale by RFID tags together with other real time quality information, some of which are obtained from other Valmet analyzers at the mills. This ensures quality verification is immediately available to the control room at the time of pulp manufacturing and the customer can later access it using the RFID delivery batch code. Before automated measurements, pulp properties were previously only available only after many hours or even days of laboratory tests.

DCD also provides a valuable insight to pulp mill operations. After a mill shutdown, there can be increased dirt at startup and DCD provides the opportunity to know exactly when the pulp quality has changed sufficiently to comply with specifications. Additional washing water in the bleach plant normally used at startup can also be minimized; a very important consideration with today's closed systems.
Minimal maintenance
| | |
| --- | --- |
| | Timo Eteläpää (left) from Botnia Mill Service, at the DCD operating terminal together with Valmet DCD product manager, Kari Tullila |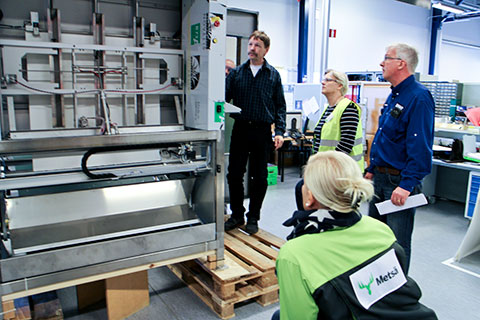 Sheets are taken from the DCD three times a week for visual comparison to verify results. As far as required maintenance, Timo Eteläpää, E & I engineer with Botnia Mill Service in Joutseno, has been positively surprised, "Given the amount of moving parts and the environment next to the baling line the unit is very reliable, operators need only a few minutes for cleaning every two weeks as Valmet recommends."
Kari Tullila (left) demonstrates the DCD, with the covering panels removed, to Metsä Fibre and Botnia Mill Service personnel
More information
Kari Tullila
+358 40 584 6265
Kari.Tullila@valmet.com