Not many roll cover manufacturers can offer as wide a range of calender covers as Valmet can today. Most attention often goes to highperformance covers addressing difficult conditions in the calender, such as vibration and barring in high-speed on-line calenders. But there are also many calenders that run with no vibration issues, and when such "antibarring" covers are not needed, other properties become more important.
Performance and cost requirements
Some covers must have a uniformly smooth surface for good calendering action to achieve the desired paper smoothness and gloss. Others must run at a low load to retain paper bulk, and so must be relatively soft to still provide some nip width. Of course, all covers must be durable in terms of grinding intervals (wear and marking resistance) and overall lifetime (impact and load strength). The choice of cover is never based solely on performance – it's about finding the right balance between performance and cost. All Valmet's roll covers have their specific strengths and appeal, and our specialists always work closely with customers to find the ideal solution for each individual need.
Soft roll covers for special needs
Calender Roll Cover CPU, a special calender cover from Valmet, is not based on a composite – it uses a much softer material: elastomer. Operating conditions used to be too severe for an elastomer material. Now it offers unprecedented opportunities for board makers by saving bulk, avoiding mottling and still achieving good levels of smoothness. This cover replaces the previous-generation Filmozen soft cover. A cover with a long history is the well-known XCC – a special, relatively soft composite cover for soft calendering of technical specialty papers, as well as for bulky grades and tissue.
Durable covers in all conditions
The well-known Summit Series and Supertex Series provided economical
alternatives for less demanding conditions. Offered in a wide hardness range
and with a very long list of satified customers, these covers were a good choice when calendering load and speed were not especially high. They were suitable for both soft calenders and supercalenders, and their toughness kept them running even after impact from interruptions such as web breaks.
When the speed increases, so does the load. The operating conditions get more difficult, and it is time to introduce Valmet Calender Roll Cover CP. The standard calender cover family is comprised of the durable 91 ShD, accompanied by the softer 89 ShD and harder 92 ShD.
Valmet Calender Roll Cover CP is ideal for taking on the challenge of difficult supercalenders and modern multinip calenders. At the same time it is at home in soft calenders for newsprint manufacture. Its long list of references in all calender types and with all paper grades is definite proof of its durability.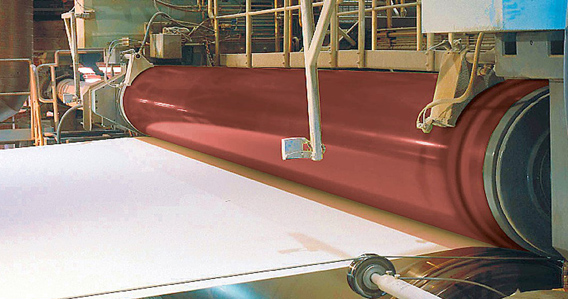 Remarkable features of engineering
Valmet Calender Roll Cover CJ featuring the latest material technology includes three premium covers. With a superbly smooth surface combined with good wear and impact resistance, CJ-S is aimed at high-end coated paper manufacture for special performance. It also has moderate cover hardness for good contact between paper and thermo roll.
CJ-W, on the other hand, targets long-running durability under doctoring for vibration, or just normal conditions. This hard cover offers wear resistance at the highest level. When all these features are combined with its special structure, CJ-W allows very long runs when vibration is an issue in the calender.
Valmet Calender Roll Cover CL

for barring-prone calenders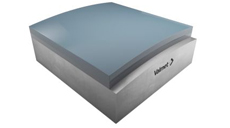 Finally, Valmet is extremely proud to introduce the new Valmet Calender Roll Cover CL, combining all the properties required from a reliable calender cover. It is the most wear-resistant cover Valmet produces and is designed for long regrinding intervals, even under doctoring. Valmet Calender Roll Cover CL has superb surface quality and is strong enough to take on any calender's load or speed. Specially designed to withstand barring under vibration, and thus surpassing even Valmet Calender Roll Cover CJ, this highperformance cover has already demonstrated its value, for instance with long running times in SC calenders.
Years of expertise and experience
In addition to offering Valmet Calender Roll Cover for the most difficult calendering cases, Valmet can evaluate and, if necessary, optimize the cover structure for each individual calender issue. Valmet's extensive expertise and experience in papermaking and paper machine manufacture means you are sure to find a cover for every calender type and paper grade. With continuous development and a number of new covers in the pipeline, we continue serving our cover customers with special cover needs.