Valmet acquired 14.9% ownership in Neles
June 17, 2020 Valmet agreed to acquire 22,374,869 shares in the Neles Corporation from Solidium Oy, representing 14.88% of all Neles' shares and votes. The transaction between Valmet and Solidium took place on July 1, 2020. The agreed purchase price was EUR 8.00 per share, corresponding to a total transaction value of EUR 179 million at the signing, paid 100% in cash.
Neles Corporation was created in the partial demerger of Metso, in which Metso's Flow Control business became the independent Neles Corporation and it continues Metso's listing on Nasdaq Helsinki. The completion of the partial demerger took place on June 30, 2020.
Neles is a good quality global company with a large share of recurring business and a strong position in the pulp and paper industry. It has demonstrated good growth and has potential to grow further. We have today agreed to acquire a minority share in Neles and our target is to increase our ownership when Neles' share price supports additional purchases. Valmet's goal is to have an active long-term role in the development of Neles. The strategic rationale of the share acquisition is further supported by the fact that Valmet and Neles have a common heritage, serve similar global industries and benefit from same global megatrends.
Neles in brief
Neles is a globally leading valve, valve automation and service company with strong exposure to the pulp and paper industry. Approximately 70% of Neles' net sales is recurring business. Neles' business is well diversified across process industries and regions, with 26% of net sales coming from the pulp and paper industry. Since 2011, Neles' orders received have grown by approximately 5% annually and the profitability has improved.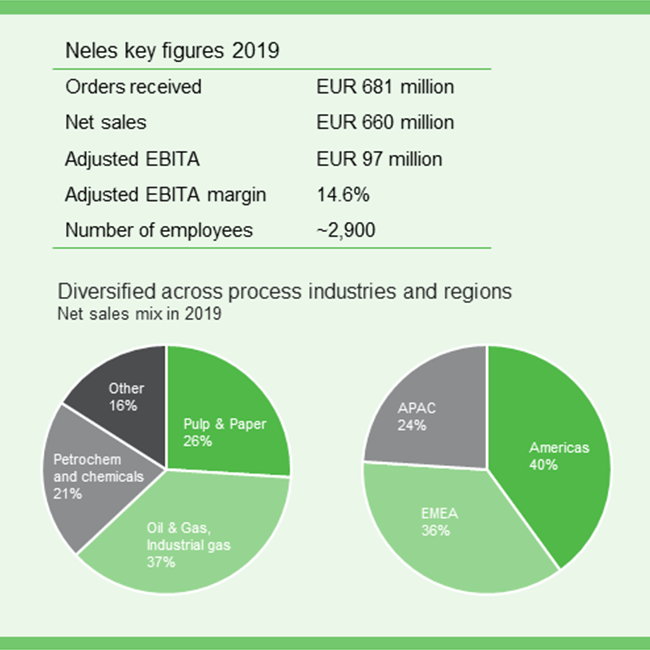 Source for financial figures: Neles CMD 2020
Read more:
Valmet Oyj's press release on July 13, 2020
Valmet Oyj`s press release on July 1, 2020
Valmet Oyj's stock exchange release on June 17, 2020
Audiocast about the acquisition of Neles shares on June 17, 2020
Neles Virtual Capital Markets Day 2020 presentation materials and recording
Updated; Sep 18, 2020