Sept 29, 2020 - Valmet proposed a statutory merger between Valmet and Neles to the Board of Directors of Neles
Valmet announced 14.88 percent share acquisition of Neles' shares from Solidium Oy on June 17, 2020 and has gradually increased its ownership further to 29.5%.
Valmet sees that a combination of the two companies in the long-term would create excellent value for Valmet's and Neles' shareholders. The merger proposal is based on a strong underlying industrial logic and long-term shareholder value perspective. Both Valmet and Neles are leaders in their respective fields, the companies share a common heritage, serve to a large extent similar global customer industries and benefit from the same global megatrends. Valmet and Neles together would create a Nordic based globally leading company with a unique offering to process industries and a globally balanced expert organization of over 16,000 professionals around the world.
Valmet and Neles share to a large extent similar customer base, have a common heritage and are supported by the long-term megatrends. We see that it would be highly beneficial for both Valmet's and Neles' shareholders if the two companies were combined. That would create a globally leading company with good potential for profitable growth and excellent shareholder value.

We have successfully taken Valmet forward since 2013. Today, Valmet is a strong, continuously developing company with a solid track record in creating value to its shareholders, customers and employees. Over the past years, we have made well considered and successfully integrated acquisitions with strong strategic fit with Valmet. We see that the strategic fit between Valmet and Neles would also be excellent. The continued success of our Automation business after integration into Valmet in 2015 shows that Valmet is skilled in sustaining the key competitive advantages of the businesses combined and in nurturing them into further success.
June 17, 2020 - Valmet acquired 14.9% ownership in Neles
On June 17, 2020 Valmet agreed to acquire 22,374,869 shares in the Neles Corporation from Solidium Oy, representing 14.88% of all Neles' shares and votes. The transaction between Valmet and Solidium took place on July 1, 2020. The agreed purchase price was EUR 8.00 per share, corresponding to a total transaction value of EUR 179 million at the signing, paid 100% in cash.
Neles Corporation was created in the partial demerger of Metso, in which Metso's Flow Control business became the independent Neles Corporation, listed on Nasdaq Helsinki. The completion of the partial demerger took place on June 30, 2020.
Neles is a good quality global company with a large share of recurring business and a strong position in the pulp and paper industry. It has demonstrated good growth and has potential to grow further.
Neles in brief
Neles is a globally leading valve, valve automation and service company with strong exposure to the pulp and paper industry. Approximately 70% of Neles' net sales is recurring business. Neles' business is well diversified across process industries and regions, with 26% of net sales coming from the pulp and paper industry. Since 2011, Neles' orders received have grown by approximately 5% annually and the profitability has improved.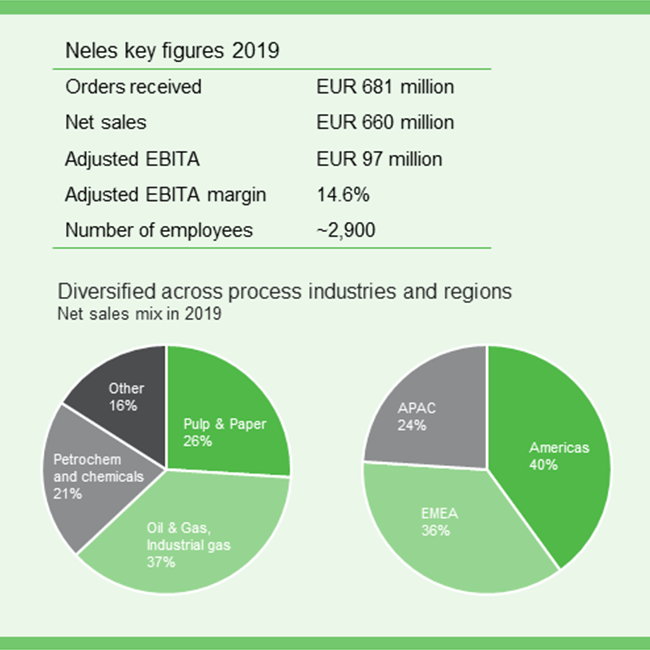 Source for financial figures: Neles CMD 2020
Read more:
Valmet Oyj's stock exchange release on October 12, 2020
Valmet's proposal of a statutory merger between Valmet and Neles: Recording and presentation of the audiocast
Valmet Oyj's stock exchange release on September 29, 2020
Valmet Oyj's press release on July 13, 2020
Valmet Oyj's press release on July 1, 2020
Valmet Oyj's stock exchange release on June 17, 2020
Audiocast about the acquisition of Neles shares on June 17, 2020
Neles Virtual Capital Markets Day 2020 presentation materials and recording