Valmet Learning Services
Why do companies with similar technology generate different results? Why do people with the same task vary in performance?
The difference can be knowledge – and knowledge is the result of learning.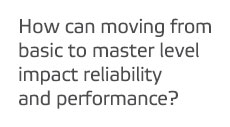 The difference can be Knowledge
Knowledge can be acquired with Valmet Learning Services extensive offering - we give customers access to more than 150 courses and a variety of training services that can be tailored to your professional requirements.
Its up to you - You can do it, or you can master it.
Places to practice, learn and interact across the world. Open coursesand seminars Demo equipment and pilot plants