BioGrate combustion technology
Valmet's BioGrate solution is suitable for power and heat production with a wide variety of biomass-based solid fuels, such us bark, wood chips, sawdust and peat. It is a rotating grate with a conical primary combustion chamber, and its fuel input ranges from 8 to 20 MW.
The fuel is fed from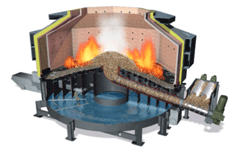 underneath to the center of the grate. It is dried in the middle of the grate by the heat that radiates from the refractory lining bricks and the flames without disturbing the burning fuel bed in the combustion zone.
After complete combustion of the residual carbon, the ash falls from the edge of the grate to an ash space filled with quenching water.
Bioheat plant flow chart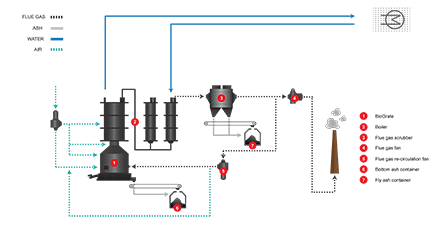 Main features
Highly efficient combustion minimizes unburned char in ashes and enables low flue gas emission
Smooth fuel feeding with a stoker screw in the center of the grate
Controlled primary air distribution through grate plates enables low emissions
Safe wet bottom ash removal
Flue gas recirculation for grate cooling
No cold corners thanks to the conical design
Highest combustion efficiency in its class
Suitable for high moisture fuels, especially when compared with traditional designs
Low auxiliary power consumption
Low minimum load