Valmet Learning Services
Take your plant operations to the next level by educating your operators,
maintenance and other staff. We are dedicated to take you there and want to
guide you on your journey. We have developed one of the most complete training systems on the market based on our unique combination of process expertise, advanced computer-based training tools and experienced instructors to help you reach that next level.
As an experienced training provider, we have many years of experience in
delivering training solutions to the pulp, paper and power generation
industries. Our in-house training department is specialized in developing and
implementing e-learning and process simulations for industrial applications.
Our well-established training concept includes a number of products and services throughout the plant's life cycle, such as:
Classroom training
Train-the-trainer courses
Hands-on training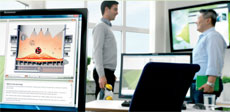 WebAcademy provides an online training product that facilitates individual training programs, individual progress tracking, online tests and exercises that can be accessed at any time. Reporting features and statistics are available for supervisors and HR staff.