Many mills cover bare floor tubes in recovery boilers with decanting floors with some material before start-up. There are, however, significant differences in materials used. In North America, the most commonly used material is lime, while in South America tubes are covered usually with sodium sulphate. Some mills have abandoned the usage of any protective material.
In case the floor needs to be cleaned totally for inspections, the selection of protective material can have a major impact on the time needed for floor cleaning. These implications are discussed and recommendations concerning most suitable materials are made in a Valmet white paper located HERE.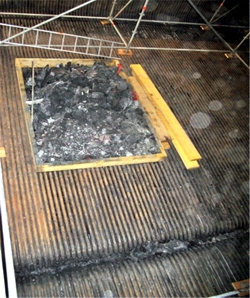 With "process-like material" for floor protection, the time needed for cooling, washing and cleaning can be minimized by smelt extraction and enhanced floor washing. Optimizing both the floor protection methods and materials and the cooling, washing and cleaning practices can yield:
significant savings in mill outage time and corresponding increases in mill production and
reduced risk of mechanical damage due to mechanical cleaning or hydro blasting during floor cleaning.
When both smelt extraction and enhanced floor washing are done, the material remaining is much less. The figure shows a 2000 tDS/day recovery boiler with floor area of 120 square meters and smelt bed volume of 28 cubic meters after smelt extraction and enhanced floor washing. The material remaining was only 3 cubic meters and it was removed in only 6 hours. However, when only smelt extraction was done, and the boiler was washed using only soot blowers, 14 cubic meters of material remained on the floor.
For assistance with improving recovery boiler safety, protecting the decanting floors and decreasing boiler-related shutdown time, contact your Valmet representative.