Valmet Field Services are maintenance services performed at customer sites
Valmet Field Services cover everything from fast, on-call troubleshooting to planned, practical, and strategic maintenance carried out on a continuous basis at your production site. We plan, execute, manage and develop maintenance activities according to your needs specifically:

Maintenance and process supporting services
Annual shutdowns
Maintenance shutdowns
Daily maintenance
Remote Field services
We serve you both locally and remotely. Using the remote field service possibilities is an easy and safe way to get the process, automation and maintenance expertise & support you need, through our local service center or even without a site visit.
---
Move your mill performance forward with the Valmet Field Services Handbook for paper and board machines!
Discover useful Field Services for paper and board machines focused on key topics:
Stock preparation, Headbox, Forming section, Press section field services, Dryer section, Sizer and coater, Calender, Reeling, Winder, Components, Automation, Machine Analysis, Agreements...and more!
Valmet's unique and versatile expertise in process technology, automation and machine services for Field Services is combined in this dedicated handbook.

---
Valmet Remote Field Services
Remote Field Services are available as:
Stand alone remote service based on customer needs
Part of a site visit - pre-audit done before coming to the site
Regular part of a service agreement - a way to serve and establish continued dialogue between services onsite visits
A combination of resources supporting a case from different locations on short notice or a means of supporting in times with travel restrictions.
Watch the video to see how the PointR tool makes distance collaboration easier for customers and contact us.

Blog: The new normal – the opportunities of digitalization in industrial maintenance
It has been said that exceptional circumstances and crisis situations strengthen certain trends and weaken others. The COVID-19 pandemic means that now more than ever, digitalization is a trend that is here to stay in working life. An everyday example of this is the numerous virtual meetings that follow each other during what is now a normal workday.

---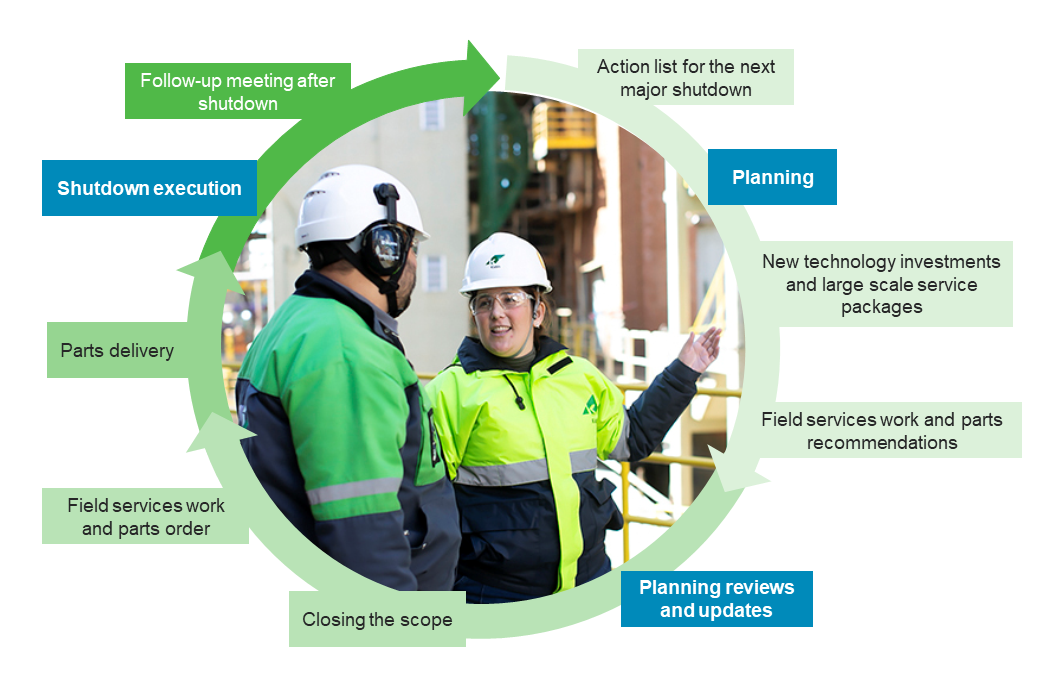 Valmet Shutdown Management
Valmet shutdown management includes delivery planning, coordination and execution of the shutdown project. We offer transparency in both planning and execution phases with cost and schedule management. We also provide safety planning for the whole shutdown process to identify risks and handle resources efficiently.
We have extensive experience running mill shutdowns. We execute annually over 100 shutdown around the globe.

Shutdown service improves the reliability of Klabin's Monte Alegre Paper Mill in Brazil
Valmet and Klabin's Monte Alegre paper mill continued their successful nine-year annual maintenance shutdown cooperation in 2019. The shared values of safety, sustainability, quality and respect for others have taken Klabin and Valmet a long way forward.
---
Meet Valmet Field Services experts
On a Shared Journey Forward, it's crucial to have a mutual understanding. This is most critical on site where Valmet Field Services Professionals work alongside you to move your performance forward. Safety, communication and trust are our top priorities when delivering Field Services.
Alberto Lana, Service Engineer
What does it take to be a Valmet Field Services professional? Alberto shares his responsibilities and challenges as a Field Services Engineer specializing in dryer and Yankee cylinder inspections and roll maintenance.
Eliadabe Trindade, Senior Mechanical Planner
Eliadabe shares the success with the customers and is happy when their production runs smoothly. Trust is earned every day. On site.
Petr Nechvatal, Service Specialist
Valmet Field Services professional Petr Nechvatal enjoys his work, repairing and maintaining paper machines. Trust is earned every day. On site.
---
Use the right arrow to explore Valmet Field Services professionals stories.
Select Map Overview to choose the area you wish to explore further or select Back to the Beginning to return to the first page.
Refresh the page if loading slowly.