Proven and stable web forming with forming roll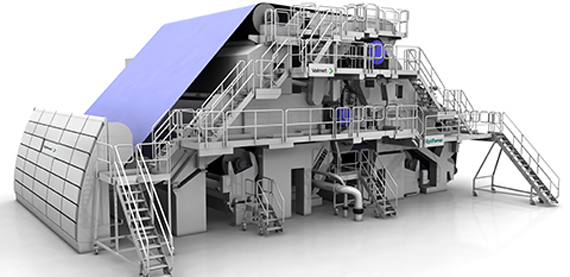 OptiFormer Gap with roll blade technology
OptiFormer Gap with roll blade technology is a solution for high-speed gap forming applications. Initial dewatering is done by a forming roll operating at constant drainage pressure, and this is followed by a loadable blade area. Valmet's OptiFormer Gap with roll blade technology provides:
Proven and stable web forming
Symmetrical dewatering and high dryness

Excellent formation and runnability
Easy maintenance and good cleanliness
The optimum choice for formation, porosity, and internal bond strength
The optimized blade geometry employed yields excellent paper quality with enhanced runnability and high retention. Symmetrical dewatering allows good z-directional filler and fines distribution control. The optimized blade geometry ensures excellent formation using lower headbox flow rates, which results in higher headbox consistency compared to the multifoil shoe concept. Lower headbox flow also has a positive effect on many paper properties such as strength and porosity.
The good support and stability provided by the forming fabrics contribute to excellent profiles. The stiff and stable frame construction allows high speeds with low vibration.
The user-friendly cantilevering system makes maintenance, cleaning and forming fabric changes easy. Optimized water treatment and ventilation minimize misting and result in outstanding cleanliness.
OptiFormer meets the specific requirements of woodfree and wood containing paper grades. OptiFormer is the optimum choice for a good combination of formation, porosity, and internal bond strength.
Customer success stories

Instant success in fine paper market for Shandong Huatai mill
"Quality is one of the reasons why our customers trust us. Evenness is vital in art paper production. With the help of Valmet's support and advanced equipment, we started producing the best quality after just three months after the start-up." explains Wei Li Jun from Shandong Huatai mill.