Film application at its best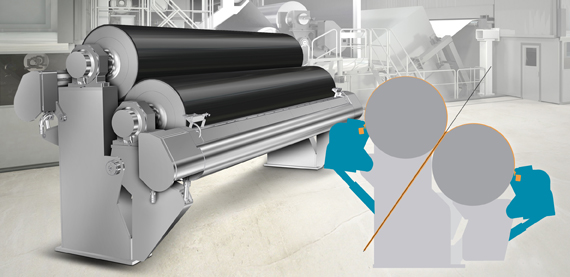 OptiSizer Film - for coating and sizing
OptiSizer Film, Valmet's film coating solution, offers a functional and innovative design, based on know-how and experience gained through more than 200 successful new film sizer installations and rebuilds all over the world. The design of OptiSizer has evolved for simple and reliable solutions resulting in easy operation and installation and fast initial start-up, which also makes it the perfect choice for rebuild projects.
OptiSizer Film provides:
In film coating application, a thin film of coating color is applied to the surface of an applicator roll. The film is transferred to both sides of the paper sheet in a nip formed between two transfer rolls. The film application method provides excellent runnability. Simultaneous application on both sides of the sheet also saves space, which provides a competitive advantage in the case of high-capacity investments.
Vast process and technological expertise
Most advanced application
Experienced process optimization support
Multi-purpose technology
Vast reference base
Wide application area for both sizing and coating
Easy maintenance and operation
Easy to adjust
High quality materials and components
Steep start-up curve
Full workshop pre-testing
Fully equipped sizer (nip rolls, integrated operator panel and control unit, applicator beams, internal piping, tubing & cabling, hydraulic and pneumatic components, frames and walkways)
Professional Valmet team helping with the whole project
Multiple production and speed world records set on a number of production lines serve as the best evidence of OptiSizer's capabilities.