Condition monitoring services
Valmet's comprehensive condition monitoring services can be an integral turnkey function in your machinery condition monitoring program or form the basis of effective hands-on training for your maintenance staff. Services can be easily customized to individual requirements according to location, process area or specific measuring and analytical skills required.
Benefits
Prevention of unexpected failures leading to production breaks and high repair costs
Improved equipment reliability and availability
Our condition monitoring services:
Condition Based Maintenance Audit
Condition Monitoring Planning
Analysis and Diagnosis
Specialist Services
Customer success stories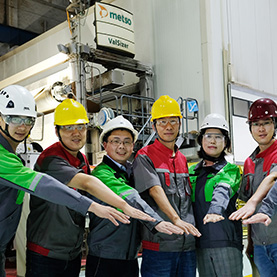 Machine monitoring analysis service proves invaluable at Metsä Group´s bioproduct mill
With the construction of a new bioproduct pulp mill in Finland, Metsä Group selected Valmet DNA Machine Monitoring as an integral part of the mill-wide Valmet DNA automation system. As part of the machine condition monitoring application, remote diagnostic support provided by Valmet has proved to be an essential aid to predictive maintenance.