Valmet DNA controllers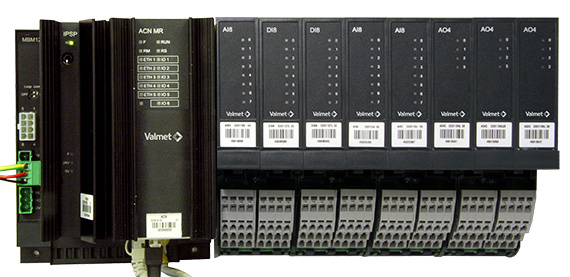 Valmet DNA efficient ACN controller family ensures a dependable platform for all your controls and external connections. These control nodes support the modern ACN I/Os and main industry field buses, such as PROFIBUS, PROFINET, Ethernet/IP, FF and AS-i. Standard links like OPC DA, OPC UA Ethernet and serial links ensure excellent connectivity to third party systems.
Features
The ACN (Application and control nodes) family features a reliable platform for basic and advanced controls, fast logic and versatile calculations.
Valmet's ACN I/O is a modern I/O family used with ACN process controllers. An ACN I/O is suitable for both centralized and distributed I/O solutions.
Fieldbuses have gained ground in controlling intelligent field devices, motors, and frequency converters. They can offer improved diagnostics, flexible design and easy commissioning. For instance, improved device diagnostics are integrated seamlessly in the operator's user interface, or they are available in any web-based user interface. In the Valmet DNA, you will gain a uniform configuration to all fieldbus solutions, easy device parameterization and troubleshooting, online diagnostic window, as well as I/O and bus solutions within just one process controller.
Benefits
Controllers offer real user benefits, including down to 20 ms control cycles, as well as scalability even to the smallest systems. The same ACN platform is used for connecting third party systems.
Reliability is secured by using industrial components, an advanced spare part concept, redundancy and a stable network structure.
Cybersecurity
The ACN controller is a core component of Valmet DNA that executes control applications and controls production processes. It is essential to guarantee the functionality and availability of the Valmet DNA system.
Hardening The Valmet DNA operating system's process controllers are based on Linux. This Linux environment is hardened. All components in the full Linux package have been evaluated.
Protection against denial of Service (DoS) Valmet DNA ACN controllers have a denial of service identification feature to detect any DoS situation in the network. If a DoS is detected, the ACN controller protects the process application execution by blocking or limiting inbound traffic to the ACN controller.
ACN access control The ACN's access control feature prevents access to the controller. When turned on, only proprietary Valmet DNA communication is allowed. For maintenance purposes, the ACN firewall can be temporarily turned off.
Proprietary protocol Although not a specific security feature itself, the proprietary Valmet DNA communication protocol narrows the potential attack surface of the Valmet DNA system. Since the protocol used in the system is not publicly available, it prevents any detailed analysis. Additionally, it greatly reduces the possibility that an attacker can exploit the protocol for hostile purposes.
All Valmet DNA ACN controllers have been tested and validated by an independent third party.