Customer case:
Speeding up remotely at Jeesr industries
Jeesr Industries operates Morocco's largest tissue line, with a capacity of 30,000 tonnes per year. To further improve productivity, it was decided to target a machine speed increase from 1,800 m/min to 1,900 m/min. Jeesr and Valmet initiated the project just before the global pandemic Covid-19 closed borders, making it impossible for Valmet's experts to travel to the site. Projects like this are complex, requiring thorough planning. When operating remotely, modern digital tools and communication channels are needed to enable real-time data collection and continuous information sharing.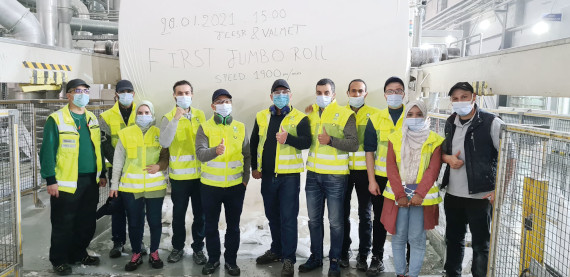 We are very satisfied with the outcome of this project: we reached the expected productivity increase with a stable machine and a good quality product. I am sure we will continue working this way – through remote support Valmet's experts are available to us faster and at lower cost than before. Also, thanks to not having external experts doing things for us, our own technical skills are simultaneously developed further."
Summary
| | |
| --- | --- |
| Location | Jeesr Industries, Berrechid Mill, Morocco |
| Solution | To increase the machine speed from 1,800 m/min to 1,900 m/min with remote support by Valmet |
| Results | Everything ran as planned, and the project team, scattered in several locations, took pleasure and pride in witnessing Jeesr's J100, Valmet DCT 100 tissue machine, joining the 1,900 m/min club. |
| Key words | Services, remote support, upgrade, DCT 100 |
We are very proud of what we accomplished. But that is not all: the end of this project means a beginning of a totally new way of thinking. I am sure there is a lot we can achieve with Valmet through remote collaboration."