Customer case:
Refiner segment solution for tissue broke flakes at OKI Pulp and Paper in Indonesia
OKI Pulp and Paper Mills is a global provider of tissue, paper and board technology and services for heavy industries. They turned to Valmet as they struggled with white spots (broke flakes) from tissue broke in their tissue grades.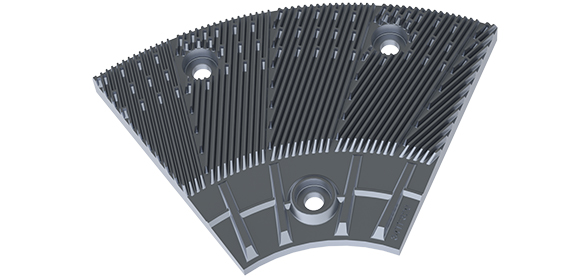 "Refiner segments with dams are good for broke refining. With these segments, we were able to refine continuously without a batch process, reach 2500 LPM, eliminate white spots in our sheet, achieve our freeness target and significantly increase segment life."
SUMMARY
Location
APP OKI Tissue, Indonesia
Challenge

The mill struggled with white spots from tissue broke containing wet strength on high gsm tissue/MG paper grades. Refining the broke in a batch recirculation process for 30-60 minutes was the only way they could eliminate the white spots. Refiner segment life was only 4-6 months. The customer's goals were to refine the broke continuously without a batch recirculation process, eliminate the broke flakes at equal or less specific energy, and increase refiner segment life.

Solution

Valmet experts conducted a refiner process audit using our seven-step refining optimization process. Based on this analysis, our recommendation was to use a Valmet refiner segment pattern with dams (34TF320/321).

Dams force the broke flakes up onto the bar edges so that energy can be transferred into these fiber bundles. The energy that is transferred into these broke flakes breaks up the wet strength bonds holding the fibers together, resulting in the elimination of the white spots on the final tissue sheet.

Results

The broke refiner can now run continuously without utilizing the batch recirculation process. Total specific energy requirements were maintained at 70 kWh/T.

Broke flakes are now broken down into individual fibers, eliminating the white spot issue in the tissue paper.

Lifetime of the segments has increased to 7 months.

Key words
Tissue, Asia-Pasific, consumables, improvements