Customer case:
The world's biggest OptiFiner Pro refiner saves energy at Savon Sellu
Savon Sellu aims to make their fluting lighter while keeping the same strength properties. They invested in refining rebuild that enables them to pursuit this target while optimizing processes so that they use less energy, control the process better and need less maintenance. They have now two of the world's biggest OptiFiner Pro refiners to help them in reaching their targets.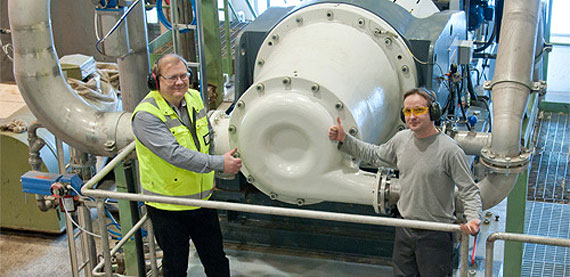 We believe that the unique refining principle of the OptiFiner Pro gives us an advantage because the refining efficiency is good and the fiber is refined better. As a bonus, we use 30% less energy while achieving the same freeness values as before."

Summary
| | |
| --- | --- |
| Location | PowerFlute operated paper Mill at Savon Sellu in Kuopio, Finland |
| Customer challenge | Too low capacity, old equipment that had reached it's end of a lifecycle. |
| Solution | Low energy, two stage, low consistency refining process that optimizes the stiffness values (CMT and CCT). The second refining stage has two new OptiFiner Pro refiners for high capacity. Old refiners equipped with new refiner segments were moved to the first stage. Additionally, a new OptiFiner Conflo refiner was installed to the first stage. |
| Results | More accurately controlled refining process, up to 30% less energy while achieving the same freeness value as before, lower maintenance costs. |
| Keywords | Board and paper, Europe, Rebuilds |