Valmet Online Learning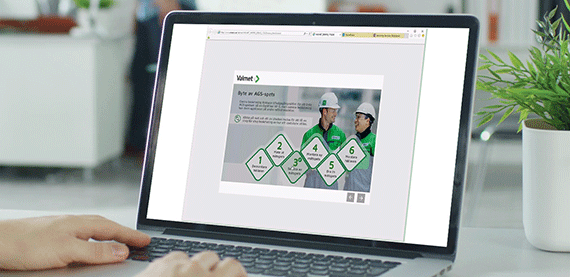 Valmet Online Learning
Valmet Online Learning gives you access to online training courses for a variety of Valmet products and services. Our Learning management system facilitates individual training programs, individual progress tracking, online tests and exercises that can be accessed at any time. Reporting features and statistics are available for supervisors and HR personnel.
Large library of standard Online Learning courses
Valmet has a large library of standard eLearning courses covering the entire pulp and paper mill and industrial/municipal power plants. We continuously develop new courses and upgrade the existing content based on the technical advancements of the plants. We offer standard courses in a variety of languages. Our online courses are delivered via our Online Learning platform.
In addition to our standard course library, we offer advanced process courses, maintenance courses, and fully customized courses based on the customer's plant documentation.
Learning Management System
A Learning Management System (LMS) is an online platform for the administration, documentation, tracking, reporting and delivery of e-learning courses. Valmet Online Learning portal is based on Moodle, an Open Source LMS.
Micro Learning
Designed for mobile use on-the-go, microlearning are very short, highly focused online course nuggets using rich media - like video - to engage learners and build new skills a little at a time.