Learning technologies
Modern tools to support your learning, anywhere, at any time. Learn about process, equipment, and systems. Practice procedures, scenarios and safety measures.
Learn more about our elements for successful learning execution, Valmet Training Simulators, Valmet Online Learning and Valmet DNA Learning Systems.
Quality training to suit your requirements
Training is an essential part of Valmet's long-term customer relationship. To see that our customers get the most out of their equipment, systems and processes, we provide quality training to suit your requirements, whether it is at the very beginnings with a new plant, or as refresher training to ensure employees are up-to-date. Courses range from basic levels to master level. Instruction can take place through a variety of means including Online Learning, simulations, classroom-based, on-site or off-site courses.
Highly realistic simulators for operators, maintenance personnel and other mill staff to ensure successful start-ups and efficient long-term operations.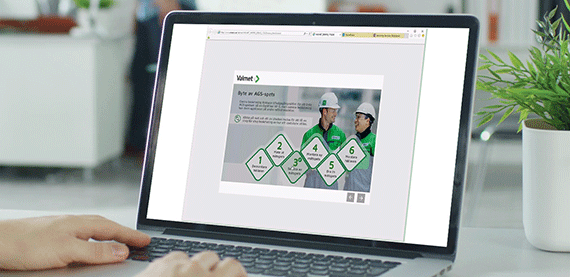 Our Online Learning system gives you access to individual training programs, individual progress tracking, online tests and exercises that can be accessed at any time.
Through Valmet's professional training programs, either standard courses or tailored to your specific needs, you will have optimized competences available in your organization.