That feeling when
Would you like to kick-start your career with a summer's worth of experience in an industry-leading global company? We are on the lookout for top talent to join the team for Valmet's summer job program, which is run in Finland. We offer our trainees the possibility to gain relevant job experience in their field of study. Positions, fields and locations vary with about half the jobs being related to R&D, engineering, sales, logistics, etc. and half in field service or production.
We have received highly positive feedback from our past trainees, with 100% of them saying that they look forward to coming back to us. And so do we.
Valmet is proud to be the 9th most attractive employer for Engineering / Natural Sciences Students in Finland according Universum's study 2017.
Check out our Facebook event what is happening with our summer trainee process in Finland: here.
…you can put theory to the test.
"I studied environmental engineering and during the summer I was able to learn very practical HSE procedures instead of pure theory. My goal was not only to succeed during the summer but also to find a master thesis position inside Valmet and I got one!" - Eveliina Hakanpää



...you can jump-start your career.
"The best thing about my summer job was that I was able to learn more about my own area of study and also apply what I learned in the summer to my studies. I appreciated being able work in global and well-known company which was a great start for my career. My work was challenging and I got to learn new things and work with amazing people." - Meri Närhi


...your opinion is valued.
"I applied for a summer job at Valmet because I wanted to work in multicultural environment and learn new things related to logistics. Here I have been treated as professional and my colleagues appreciated my opinions." - Taneli Lukkarinen


We are always looking for enthusiastic future talents to join the team. Take a look at our open positions here – your dream job might be just a click away!
My summer at Valmet -blog
In 2016 hundreds of trainees joined Valmet's Finnish organization for a summer to remember. What made the summer of 2016 extra special was the Make it a summer to remember campaign, which focused on capturing and sharing trainee stories.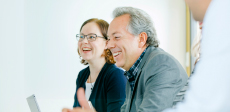 Check out open positions at Valmet!