That feeling when
Would you like to kick-start your career with a summer's worth of experience in an industry-leading global company? We are on the lookout for top talent to join the team for Valmet's summer job program, which is run in Finland. We offer our trainees the possibility to gain relevant job experience in their field of study. Positions, fields and locations vary with about half the jobs being related to R&D, engineering, sales, logistics, etc. and half in field service or production. We have received highly positive feedback from our past trainees, with 100% of them saying that they look forward to coming back to us. And so do we.
Read more about summer jobs in Finland.
…every day is different.
"I applied for a summer job at Valmet because the company's internationality caught my interest and also because I noticed that they offered a diverse range of summer job responsibilities for economic science students. I worked as an assistant for Valmet in the Board & Paper Mills Sales & Marketing department and my duties were very diverse and varied. In the beginning of my studies the importance of getting familiar with the most common systems was emphasized so learning to use Valmet's ERP and CRM systems has been very valuable for me." - Emilia Rinne
…you feel like you're part of the team.
"During the summer of 2018 I was working in the Services Business Line with spare parts. My main job was to buy spare parts for paper machines based on technical drawings. The best part of working for Valmet has been the people I have been working with. It is nice to come to work even on Mondays when you know that there are people ready to help you if needed. This summer job has developed my ability to operate and solve problems under pressure. I have noticed that my previous areas of discomfort have started to become more comfortable." – Jarmo Jatkola
… your employer supports your development.
"My main responsibilities at Valmet focused on developing concepts in the services business. I documented, trained and solved different kinds of system architectures. One of the most memorable things during the summer was a business trip to China. With a small team we travelled to Shanghai to train the area's sales people about Valmet's Customer Portal. This summer job has been an excellent experience and Valmet's values fit perfectly with my own. Valmet supports continuous development which is one of the most important things for me when thinking about a job." Jarno Ylilehto
We are always looking for enthusiastic future talents to join the team. Take a look at our open positions here – your dream job might be just a click away!
My summer at Valmet -blog
In 2016 hundreds of trainees joined Valmet's Finnish organization for a summer to remember. What made the summer of 2016 extra special was the Make it a summer to remember campaign, which focused on capturing and sharing trainee stories.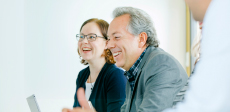 Check out open positions at Valmet!