Waste to Energy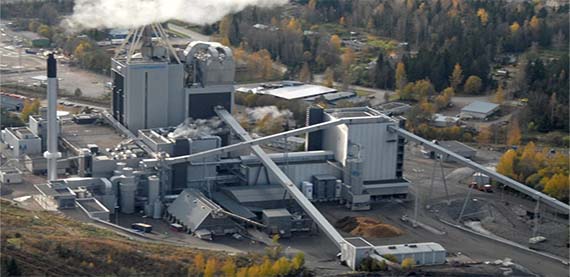 In boosting sustainability and eco-efficient energy production, nothing of value should be wasted. Valmet has sustainable solutions for optimum energy production from waste-derived fuels. For example, a city can use our solutions to maximize its revenues from recycling materials and also from generating electric power, heating and cooling.
Our technology produces very efficient combustion, which results in extremely good environmental performance. It also offers high fuel flexibility and electrical efficiency that can be as high as in biomass-fired power plants. This gives you more options when choosing fuel and also generates more electricity. Both of these benefits greatly improve plant profitability.
Valmet has developed solutions that have proven to be suitable for demanding fuels, and good results have been achieved. Our Waste to Energy concept is based on the principle of maximized recycling and combustion of the recycling waste, Solid Recovery Fuels (SRF).
Valmet is an experienced supplier of automation and information management applications for diverse waste-to-energy plants, utilizing industrial, municipal and wood waste or sludge. The Valmet DNA automation system with its scalable architecture covers the entire control and monitoring of all processes at waste-to-energy plants. A central part of that is the Valmet DNA automation system with powerful control, monitoring, protection, optimization and reporting applications. Valmet offers professional project deliveries with decades of power plant automation expertise.
Fluidized bed technology for large and small plants
Valmet builds fluidized bed boilers with a fuel input of up to 1,000 MW, and the biggest waste-fired plant delivered by us combusts over 400,000 tons of waste per year.
Valmet also delivers smaller plants. For plants with a fuel consumption of some 100,000 tons per year, we offer a modularized Waste to Energy solution that makes project development relatively easy. This kind of plant produces approximately 9 MW of electricity. Please ask for further details using the product name RecycPower.
Valmet is specialized in the automation of fluidized bed boilers in greenfield and retrofit projects. In addition to combustion control and optimization solutions, the Valmet DNA system includes versatile performance monitoring applications for the fluidized bed boiler, a fuel management system for solid fuel received, condition monitoring and other DCS features designed for power plant automation.
Waste gasification
Valmet is a pioneer in waste gasification with successful references. One of the biggest benefits of this technology is that electrical efficiency can be even higher than with traditional combustion.
Automation solutions are an essential part at power plants when producing energy with the gasification process. Valmet's automation serves well in the gasification process, which is a rapidly developing combination of technologies and services for effectively converting biomass, recycled materials and waste into a usable form of energy.
Read more
Valmet Waste to energy solutions (pdf)
Our solutions for Waste to Energy
Customer success stories

Eco-cities go greener with their energy supply
According to the old saying, where there's a will there's a way. With the environmental legislation tightening, cities around the world have to meet the growing energy demand. With the latest power generation technology, it is possible to balance environmental compliance with economic performance.


Highest electrical efficiency from waste: Lahti Energia, Lahti Finland
Lahti Energy's Kymijärvi II power plant, the world's first eco-gas fueled power plant, was inaugurated in 2012. The power plant runs on SRF that is gasified, cooled and cleaned before combustion and produces 50 MW of electricity and 90 MW of district heat for the city of Lahti in Finland.